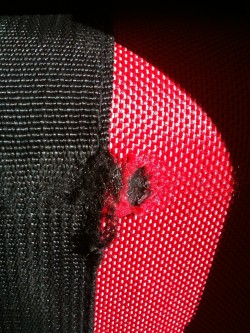 Whenever we fly, there is a new skid mark on our luggage. I always feel a little angry about the damage, but at the same time, I feel amazed that it arrived within thirty minutes of my disembarkation. I am constantly in awe at how airports are able to get my luggage onto my plane, transferred to my second plane and off the plane with as little damage as I see.
Sometimes, your luggage is damaged FAR more than the minor scuffs and scrapes. If it is, here is how to deal with it.
Inspect your bags BEFORE you leave the airport: It might not be too late if you go home first, but you will have to make a trip back to the airport, so make sure your luggage is fine before you leave.

Take pictures: Take pictures of the damage to your suitcase and then open your suitcase and inspect the contents. If anything is damaged within the suitcase, photograph it.

Find the baggage handling service desk: This may be a bigger task than you realize, especially if your flight arrived late at night when the airport is nearly empty. Once you find the desk, you'll need to show your ticketing information and the damaged luggage to make a claim.

Damage reports are different for each airline: You'll need to fill out a damage report, so make sure you are given one for the appropriate airline.

Wait and then call and then wait and then call: Honestly, these claims take FOREVER to process and getting reimbursed is a lengthy process. Expect to call the airline SEVERAL times in order to find out how your claim is progressing.
In the end, it may not be worth your time to pursue a claim against the airline if your luggage is damaged. I have always just thanked my lucky stars that I arrived at my destination with all of my bags, whether they were intact or not.