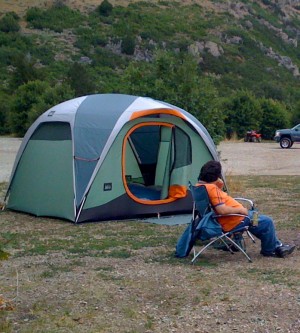 Mike and I camped with our Hobitat 6 tent from REI for five years. We paid over three hundred bucks for the tent and I can safely say that I HATED every minute in it. There were only two nights when I wasn't miserably cold in that tent, even though we only camped in the summer. The mountains of Utah are just too cold at night for that flimsy thing. To REI's credit, they seem to have redesigned the Hobitat 6 since we bought it, but I can't help but feel ripped off.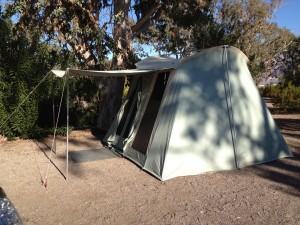 This year, we bought a Springbar Traveler 5, which has the same height and floorspace as the Hobitat 6, but it's FAR warmer. I can open the windows for ventilation on hot days, but in Utah, we have to worry about extreme cold weather more often than too much heat.
Last Thursday, I set up the Springbar in our backyard. That day, it was 26 degrees Fahrenheit. After putting up the tent (it was a one-person job, as opposed to the difficult MESS it was to put up the Hobitat), I put an electric heater in the tent. Within five minutes, the tent was a toasty 74 degrees. I realized that I could camp all winter as long as we have electric hookups at the campsite. All that pining for a trailer so I could camp throughout the winter was a waste of time. I have a tent that allows me to do just that.
As I said, putting up the tent was a piece of cake. The biggest difference is that I have to stake out the tent BEFORE I try to put it up. With the Hobitat, we were supposed to raise the tent first and then stake it down. That's not possible with the Springbar. In fact, if you can't stake down the tent properly, you won't be able to raise it at all. If you're used to just throwing up your tent and hoping the sleeping bags inside keep it from blowing away, that's just not an option with the Springbar. Here is a video of how to do it:
I don't know if you can tell, but that lady is really tall, so she had a bit of an advantage. When it comes time to put up the second half of the tent, it's a little difficult for me because I'm only 5'2″. I am still able to do it on my own, but it's a lot more clumsy than shown in that video.
In fact, I wasn't able to zip on the awning because I'm so short. Mike had to do it the first time we put up the tent and we've kept the awning on the tent ever since (rolling it up with the tent instead of removing it). If you watch this video, even that super tall girl has to stretch to reach the zipper. That was the ONLY thing that I couldn't do myself when putting up this tent.
One thing we loved about the Hobitat was that its bag was big enough to hold it, even after we had used it. I was worried that the Springbar would never fit back into its bag, but if we fold it like this video, it fits just fine, even with the added bulk of the awning still attached.
I haven't encountered any extreme winds or rain in my Springbar yet, but it's comforting to know that the tent will stay standing. Here is a video of one of their tents in tornado force winds of 95 MPH.
If you have packed away your camping gear for the winter, think about investing in a canvas tent. You might be able to camp all year with one. Here are some links about the products I talked about: