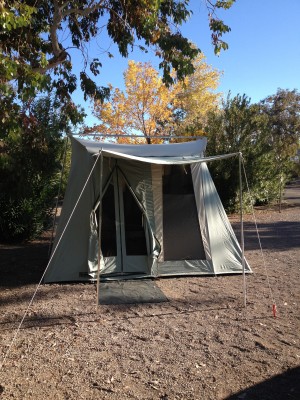 I absolutely love this story about Johnny's first experience with a Springbar Tent:
We had just set up camp when a new camper arrived at an adjacent site. She was a petite woman, and she was alone. The tent she had dragged out of her van was obviously one of those canvas behemoths, and my wife and I nudged each other knowingly.

Sixty or eighty pounds of canvas. This woman (and for that matter, any unassisted man) was going to have difficulty erecting this monster. I stood proud and tall in my masculinity, and offered to assist our new neighbor. My wife (equally prideful, if a bit less tall and not-at-all masculine) offered to assist.

Our neighbor stopped — briefly — to say "Hi neighbors, no thanks."
He's right, my tent weighs ALOT and it's difficult to carry, but I don't need to carry it far when I'm car camping. I can get it out of the car and to the site, but, honestly, I struggle with it. The tent really shines when it's time to put it up, however.
Before I had time to finish a fresh Pete's Wicked, our neighbor was finished.

Our neighbor had stretched out the bottom of the tent, and driven a dozen or so tent stakes into the ground around the tent perimeter (ten minutes, or half of my beer).

I was a little puzzled by the apparent "misunderstanding" of what I thought should be the order of events, and remained confident we would have to assist.

She then assembled four springy-thingies-like-auto-antennas onto a thicker tubular bar while threading the springy-thingies into loops on what will become the roof of the tent. A serious-sounding "snap" turns the lumpy canvas into a trampoline-taut roof, still lying on the ground (five minutes, or several more good pulls on my beer).

Now mystified, I waited to see more.

Our new camping neighbor assembled tubular pieces into four tent poles. One of them was used to partially erect the tent — raising half of the roof. A second pole raised the rest of the tent with impressive, near-straight walls. The remaining two poles were used, along with the first guy-lines I had seen, to raise the fly over the entrance. (Another five minutes, bringing me up to the last swallow of my beer).
He's right, I can erect my Springbar tent ALONE in the time it used to take to just get those stupid aluminum poles extended and threaded through the tiny nylon sleeves of my Hobitat. The most time I spend on tent erection is pounding in the ground stakes.
And that's why I love my Springbar tent.