I am coming down off a serious case of Teardrop Trailer Obsession. It all started the summer we had an awesome trip to Disneyland in Pat's Motorhome. I loved that I could just sit in the motorhome and play with my Barbies while Carol drove. It didn't feel like a road trip at all. It was so much better!
Actually, I think my obsession might go back a little further than that. Maybe it all started when I got the Barbie Star Traveler.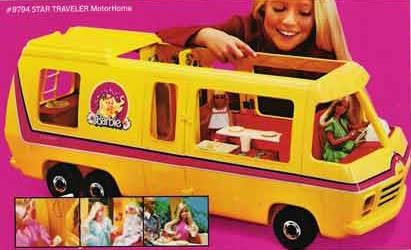 I played with that toy so much that it was a worn out wreck by the time I reached puberty. I don't know how many adventures Barbie took in the backyard with the Star Traveler, but I can tell you that I hauled that toy from Salt Lake City to Billings every summer until I was fourteen.
I think my recent obsession started back in June when I saw this adorable trailer and truck setup at the car show.

I know this trailer isn't a teardrop, but the efficient floor plan and the way it matched its truck made me start looking. Teardrop trailers are actually TINY trailers with a galley off the back. They can usually only sleep one or two people. They are basically a bed and a camp kitchen on wheels. I don't know where I saw my first teardrop trailer, but I do know what video made me fall in love. It's this one.
Kermit and Diane look so happy camping in this trailer. The song is so comforting. I wanted to have the same fun they have coordinating their outfits to match their truck and trailer. I find myself humming, "Honey, hook up the teardrop, I'm on my way," all day long.
After looking at a few videos of teardrop trailer gatherings, however, I began to notice something. Can you see it?
Almost every trailer has a canopy or a tent near it. I noticed that every teardrop owner showed their trailer at its campsite with a tent pitched nearby. If I have to pitch a tent anyway, why don't I just sleep in it? In fact, the camp kitchen I have is actually a little better than the kitchens on the back of the teardrops because I can put it under the shelter at the campsite near the picnic table.
No matter how I looked at it, a teardrop trailer didn't make any sense for me. I'd much rather sleep in my large tent and be able to change clothes standing up than try to wiggle into my pajamas while in a tiny trailer. Even though a teardrop is so light that a normal car could tow it, there's still some question about whether a Prius could handle towing one and I wasn't willing to buy a new vehicle just for this obsession.
In the end, I realized that this trailer obsession has been a combination of a desire to camp all year long coupled with the latent childlike desire to build a doll house that I could decorate however I wanted. When I realized that, it was easy to decide to buy a four season tent and customize it.
Now I just need to change the words of that song, "Throw the tent in the hatchback, I'm on my way!"