When I gave up on the Wild Goose, I came across these A-Frame Trailers. They are made by quite a few manufacturers and they all seem to have similar features. The best feature is that you can set them up in less than a minute. Here is a video showing an Aliner being set up.
These kind of trailers are available from the following manufacturers:
My personal favorite is the Chalet XL trailers. Here is a video of the XL 1935:
The Chalet XL 1938 is the only folding trailer with a full sized bathroom.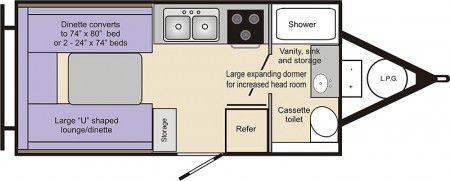 My problem with the A-Frame trailers is that they are so UGLY when they are all folded up and going down the road. I know I shouldn't care about that because they are lightweight and easy to tow, but, honestly, I do. Part of the reason I'm attracted to having a trailer is having a cute dollhouse that I can personalize and decorate. These trailers are so very utilitarian that I can't envision any enjoyment in making them my own.