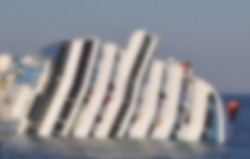 I've been on a few cruises over the years. My first cruise was on a ship with broken stabilizers, so every other cruise has felt smooth as glass. During that bumpy and lilting first cruise, I kept reassuring myself that we could not possibly sink because the last ship to sink was the Titanic. I had convinced myself that it was impossible for the modern cruise ships to sink.
Then I heard about the Costa Concordia sinking just off the coast of Italy last night and all my fears resurfaced.
Here is a video from Sky News in Great Britain:
Just short of the one hundred year anniversary of the sinking of the Titanic, we are faced with the vision of another cruise ship in dire straits. I had just calmed my nerves enough to feel that going on a cruise was a perfectly safe method of travel, but all of that is gone.
Here is the panicked video of someone on the ship:
Here's video from the air as the rescue was happening:
Here's a video of the ship the next day:
The difference between this sinking and the Titanic tragedy is the death count. Even though the listing of the ship disabled many of the life boats, they were able to get many of the passengers off the boat and onto the island. As of this writing, only five people have been confirmed dead and 17 people are missing. That is a far cry from the hundreds who died when the Titanic sunk, but I can't help feeling that I should just keep on camping instead of luxury cruising for my vacation.
More Info:
Update 07-13-12: Seven months after the sinking of the Concordia and it still sits stranded on the rocks.
The captain of the ship has been charged with manslaughter. He admitted that he was distracted with a phone call that had come in shortly before the crash.