Last November, when Mike and I were planning our trip to Nevada, we really wanted to stay at a campsite in Valley of Fire State Park. It had electricity and water at the campsites. More importantly, the landscape looked gorgeous. We tried to see whether there was coverage for our cell phones on AT&T's website, but they are not very complete. The only indication that we might NOT have coverage was a spot on the Valley of Fire brochure with a symbol with the words, "Possible cell service at this location."
We wanted to stay in Valley of Fire, but planned on checking our phones before we settled on a campsite. The minute we drove into the campsite, however, our phones showed No Service. Even our trusty Verizon iPad, which seems to get coverage EVERYWHERE was without coverage. We ended up enjoying the day at Valley of Fire, and enjoyed the animal life there, but we moved on before the evening and camped at Lake Mead.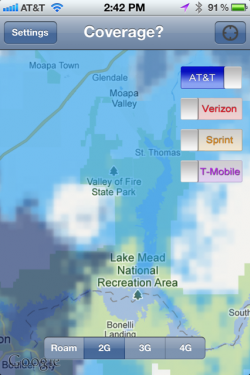 How I wish we had known about the Coverage? app [iTunes link]. If you look at the map on the right, you can CLEARLY see that there is a big white hole in the middle of Valley of Fire State Park. This is the beauty of the Coverage? app. You can see immediately how likely it is that you'll have coverage on your travels. Here are some good things about the app:
Easily know before you go: Avoid having to check each provider's coverage map individually to know where you're most likely to keep connected.
No internet needed: All maps are stored locally, so you can see where coverage next is most likely even when you have none.
Urban and rural maps: Maps cover the entire continental USA for AT&T, Sprint and Verizon.
Know where to roam: view 4G, 3G, 2G and roaming areas as separate overlays, focus on the coverage type you need.
Universal App – iPhone, iPod Touch and IPad, OS 4.2 and higher.
Here is a video explaining it: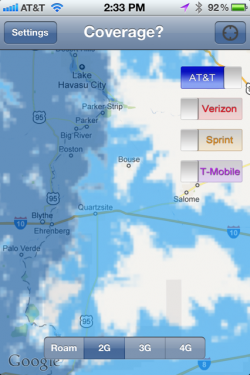 This time, Mike and I are embarking on a trip to Quartzite, AZ for the big RV show there. Now, we know that we'll have coverage, even though it will be just on EDGE. It's a great little app that let's us check for both AT&T and Verizon to know how much we'll be able to get online.
If you travel frequently and your cell phone is your only access to the Internet, Coverage? might be a good app for you, no matter what provider you use.