Here is the television commercial for the Barbie Star Traveler:
If it hadn't been for this toy, I wouldn't be struggling with my trailer and motor home obsession right now.
This toy was a replica of the GMC Eleganza II. You can see a brochure reproduction here:
Here is a picture of one looking so much like the Barbie Star Traveler that I want it for myself.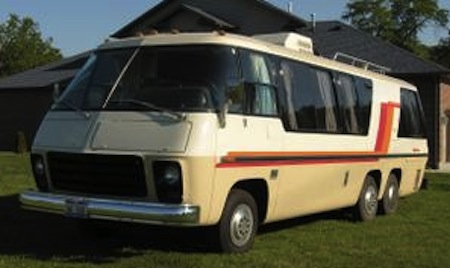 Mike and I saw one of these for sale in Quartzsite, AZ and I took a walk through it. The minute I climbed aboard, I wanted it. The back area had twin bunks with a dresser between them, so it wouldn't have worked for us. Not to mention the fact that Mike wouldn't let me even ask the price. The thought of trying to keep a 35 year old motor home running in perfect condition makes my skin crawl, actually.
In the end, we're sticking with the tent and Prius just because the cost of the gasoline alone would curtail any adventures we'd be able to have in a motorhome, but the Barbie Star Traveler will always be my first motor home.
Update 12-27-12: Here is a video tour of a GMC Eleganza