Visiting Quartzsite, Arizona in a tent is more difficult than I thought it would be. There were plenty of RV parks willing to give us a site, but none of them would let us have electricity. Since the weather was threatening to be in the upper thirties that week, we really wanted to have an electric heater.
We kept calling RV parks, moving further and further away from the city until we finally reached 3 Dreamers RV Park.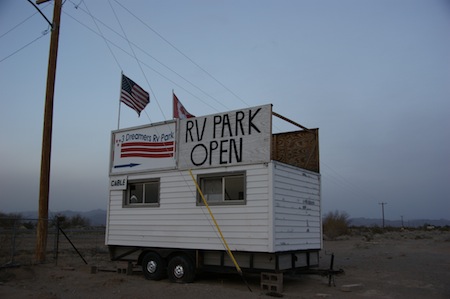 It's easy to miss them unless you're looking for this sign at the side of the road. They are listed as being in Salome, but they are actually a few miles out of town.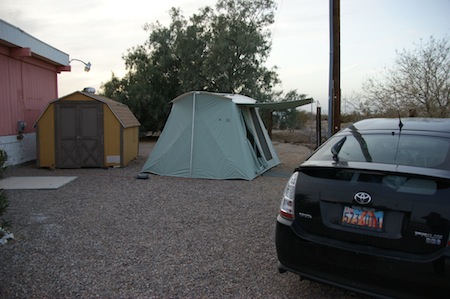 They are strictly an RV park and didn't really know what to do with our tent. They put us right next to the community room, where the bathrooms and showers were. They let us plug into the electricity there as well.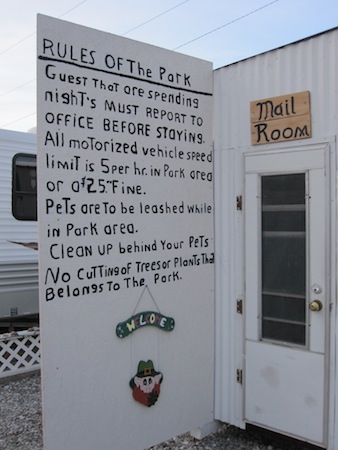 I liked the simplicity of the RV Park rules. The hand painted sign looked so inviting to me.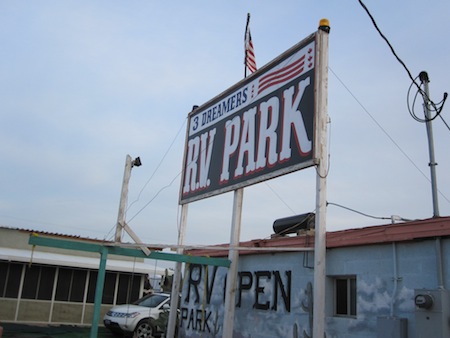 The people who lived there, didn't really know how to deal with tent campers like us. Everyone was very friendly, though.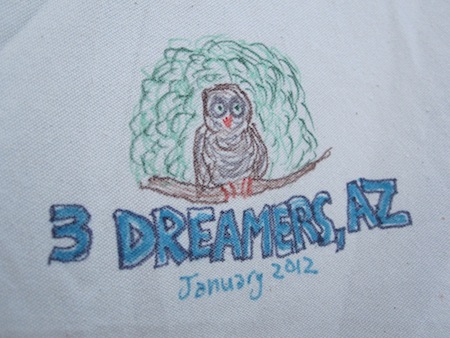 Every night, we heard a solitary owl outside our tent, hooting. We tried to see it, but never did. Based on its call, we decided that it must be a Great Horned Owl. We'll always remember 3 Dreamers for that owl.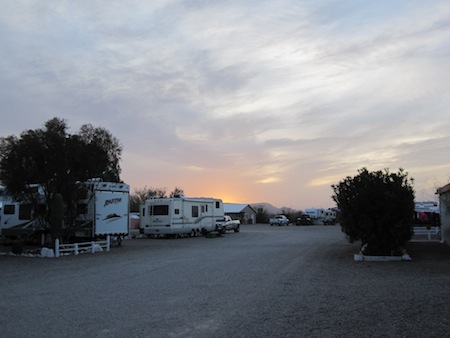 It's not really fair to give the park credit for the lovely sunsets every night, but they were one of our favorite features of the place.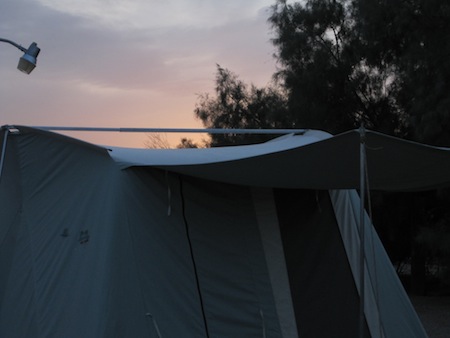 There were two negatives about the park. The first was that they really didn't know what to do with our tent, which made us feel like we were intruding. The second was that the area smelled like manure every morning. I don't know if there was a cow farm nearby or maybe a compost pile, but the smell was quite strong and inescapable in our tent.
On the whole, our stay at 3 Dreamers RV Park was a wonderful one. We enjoyed it there and it was a welcome escape from the noisy and busy areas near Quartzsite.