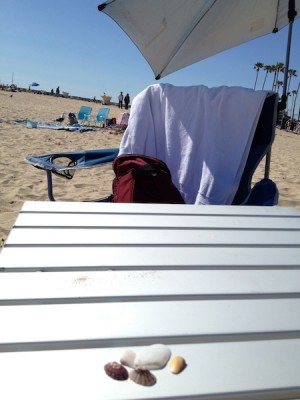 Mike and I spent the day at Corona Del Mar State Beach in Newport, California last week and it was wonderful. The sun was bright, the pelicans were diving for fish and the dolphins were jumping out of the water to give us a show.
We brought our camping chairs and folding table and it was the first time I had ever used my camping furniture at the beach. I probably wouldn't have even thought of it, but we had brought the tent and furniture to camp at San Elijo. The cold air blowing over the ocean cancelled our camping plans, but having the furniture in the car made our trip to the beach idyllic.
It reminds me that our equipment shouldn't be so compartmentalized in my mind. They aren't just camping chairs, they are also beach chairs. It isn't just the lightweight table I set up in our tent, it's a beach table, holding the sea shells that Mike found along the shore.
Next time you think you need something for a day trip, think about your camping gear. Could you use it for this trip? You might be surprised at how much money you save.