Our third day traveling was through the last half of Kansas and into Oklahoma. Since the Salina KOA sounded like road noise all night, we decided that we wanted a more rustic campsite. We decided on Gore Landing.
We found it on the Camp Where app by Big Nerd Ranch, Inc. [iTunes link]. I looked through comments about the site and one of them mentioned that there was no sign for the campground on the main road. They weren't kidding.
We drove off the main road, following the GPS coordinates and all we could see for miles was corn fields and trees.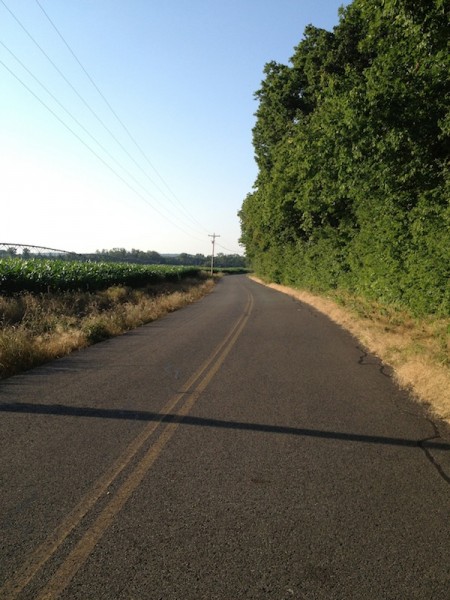 We were certain that all we were going to find at the end of that road was an angry farmer with a shotgun. When we saw the sign for the campground, even that wasn't helpful because there was no road nearby to enter, just the sign.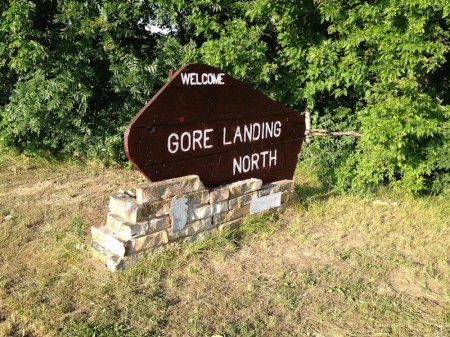 We had hope, though, because I could see white flashes of 5th Wheel trailers behind the dense foliage. We kept driving and found the small road leading to the campground. It was beautiful. The camp host came over to greet us and even helped us push our little trailer into place.
I said, "This is a new trailer for us, so we really haven't learned how to back it up yet."
The camp host scolded us laughingly, "Is that why we're doing this? Shame on you!"
We laughed together because it was obvious that pushing the teardrop into place wasn't all that difficult. $15 later, we paid for site number 9, which was half what we paid at the KOA the previous night.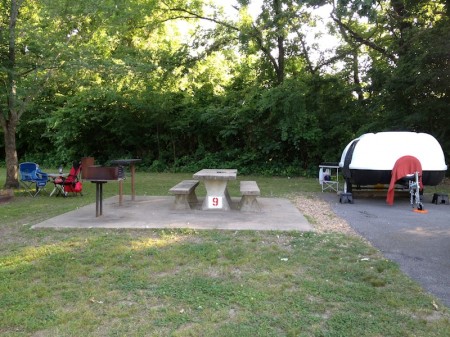 Once we pushed our little trailer into the campsite and finished setting up, it felt like home.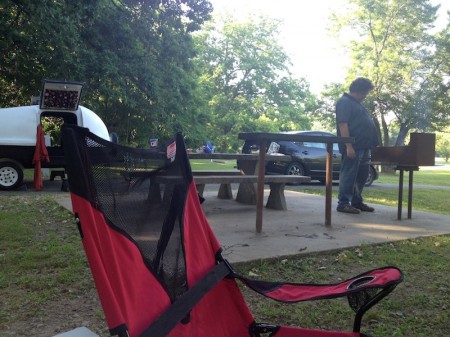 We were shocked at the beauty. The nearby river had a boat dock.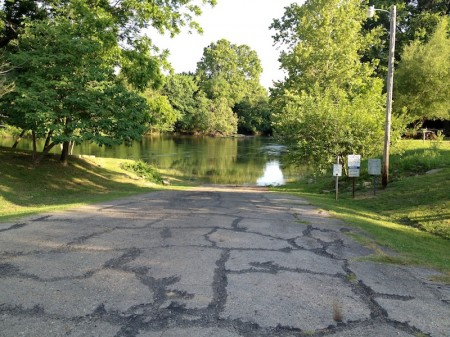 It even had one of those fabled rope swings to jump into the water. I had never seen one in real life before that day and it felt like we had stepped into a scene from an old movie.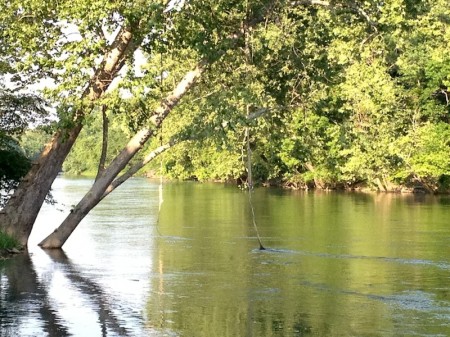 Another new sight for me was the cardinal who visited us all evening. He was very shy and this picture is the best shot I got of him, but he was also incredibly vain. He kept flying to our car and looking at himself in the side mirrors. His song sounded like laser noises and we loved hearing him sing to the bird in the mirror.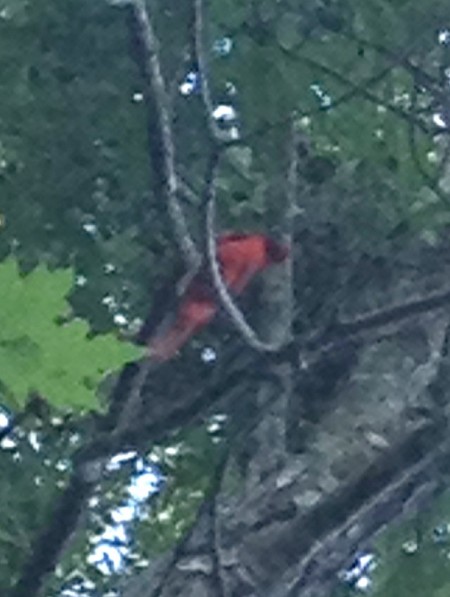 THE BUGS! There were SO MANY bugs! Before I realized it, I had four mosquito bites, so I rushed to the trailer to find that can of bug spray that we never need to use in the cold mountains of Utah. The bug spray kept them away, but I was itching with the bites from before I knew insects would be a problem.
With bad bugs (we also saw ticks), there are the good bugs, however. Once twilight fell, Mike pointed toward the water. "I don't know if I'm hallucinating from the lack of sleep or maybe there might be fireflies over there." We watched and there were definitely fireflies, shooting their ethereal lights erratically. We moved closer to the water to watch them and it felt like a magic fireworks show.
As a Utah girl, the closest thing to a firefly I had ever seen in my life was the fake fireflies on the Pirates of the Caribbean ride at Disneyland. Unlike those ever-lit bits of Imagineering, real fireflies, only stay lit for a fraction of a second. There is barely enough time to move your eyes to see them, so sometimes, you feel like you're imagining things. It's no wonder Mike thought they were sleep-deprivation hallucinations.
We were unable to film or photograph the fireflies. This video has some good footage of what it was like for us. If you don't want the science class info about them, skip to the 1:38 minute mark.
Our stay at Gore Landing was a magical interlude between two long stretches of driving. We left feeling as if we had entered a world entirely different from the desert mountains of Utah.