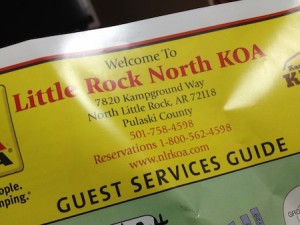 On this trip, Mike and I spent the most time in Little Rock. Mike and his father were taking a class there, which was the whole reason for the epic journey in the first place. So, we spent our most time at the Little Rock North KOA than any of the other campgrounds, yet I have the fewest pictures from them.
Ironically, they were the best campground we stayed at during the whole trip. The bathrooms had plenty of stalls and showers, so I never had to wait. They were clean and because we were in a teardrop trailer, they put us close to them so we didn't have to walk far.
When we had trouble with our car and it looked like we would need to stay extra, they found a way to accommodate us, even though they were filling up because of Riverfest. It turned out that we only needed to stay one extra day (and not even a full day at that, thank you, North Point Toyota, for saving the day!). They were so nice to us that it made us want to return to Little Rock.
The only picture I got at the campsite was a good one. I call it, "Itsy Bitsy Spider." Click on it to see it full sized.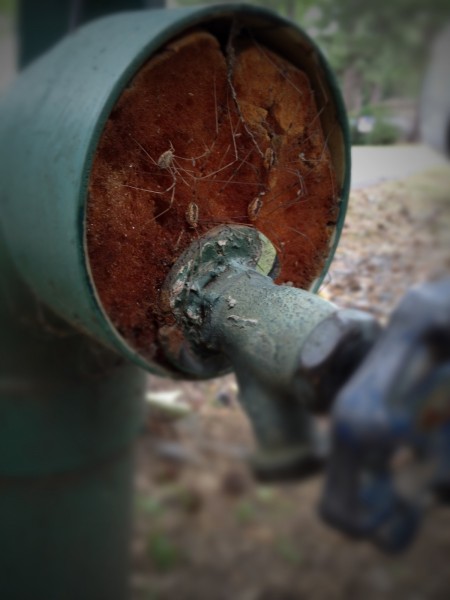 Every morning, one of the Daddy Long Legs spiders tried to recreate that children's rhyme when I went to fill my tea kettle. Since I love insects and spiders as long as they are not trying to kill me or feed off me, I enjoyed our morning ritual of saving some spider's life. Many of them tried to hitch a ride in our trailer as well, but I just picked them off by their long legs and told them that they really didn't want to go to Utah with me.
All the people staying at the KOA were really friendly as well and our trailer attracted quite a number of questions. The man who walked up to us with his fluffy dog had the best yet.
"My wife and I have a bet. She doesn't believe you're sleeping in there."
We assured him that we were, that it was cozy and that it didn't set off Mike's claustrophobia, even though we were worried it would before we finished fixing it up. Everyone was amazed that it was a 23 year old trailer and said it looked brand new. That made me feel really good because I had worked so hard on it. Even more people were amazed that it didn't "pop-up" in any way.
Our visit to Little Rock North KOA was the best campground on the entire trip and we enjoyed ourselves immensely while we were there.
More info: