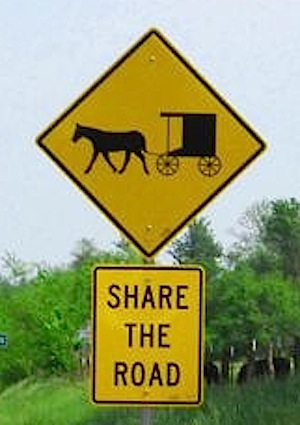 Mike and I saw the sign at the same time. I said,
"Share the road? With what? The Amish?"
We laughed and Mike pulled out his iPad to do some research.
"Umm… yeah."
"Yeah, what?"
"We need to share the road with the Amish."
I suddenly felt like I was in a strange land. There was a possibility that I could actually see Amish people driving horse-drawn buggies, just like the movies. And I did! I finally understood how all those tourists who come to Utah to see the Mormons felt. They're just people. They might wear funny clothes (or underwear), but in the end, they're people just like us.
I had no idea that with the Amish comes really good cheese. We kept seeing billboards for the Osceola Cheese Company. The giant mouse on the billboards enticed Mike, so we stopped there. I'm so glad we did.
The factory store was an amazing collection of so many different kinds of cheeses that we were hard pressed to limit our selections so we could get them home without them melting in the hot sun.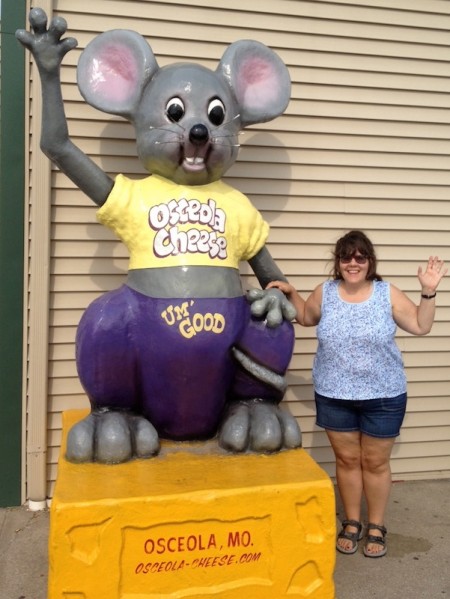 We emptied out our cooler as much as we could and added all our cheese to it. There were so many to choose from and they allowed us to freely sample any of the cheeses that we wanted to try. The whole time I toured the store, I grieved that I wouldn't be able to revisit it until our next epic journey, but the clerk assured me that they deliver worldwide. I'll have to wait until fall for them to ship me any more cheese (since they can't guarantee freshness in the summer), but it will be well worth the wait. The cheeses were THAT good!
For more information: