I've found a bunch of websites that suggest many things that you can do with glow sticks. I dismissed them at first because I thought glow sticks were expensive, but it turns out you can get a bunch of them for CHEAP from Amazon.
Knowing that we could get glowsticks for only 50 cents apiece, opened up my willingness to look at these glowing ideas.
Glowstick Bowling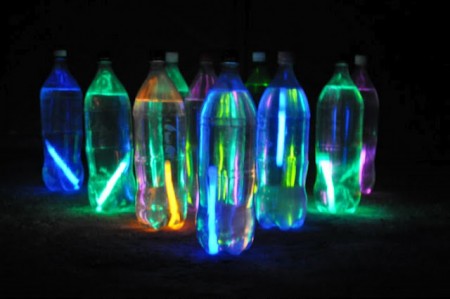 This idea from Sit a Spell: Aint No Party Like A Glow-Stick Party suggests putting a glowstick in each of ten plastic bottles filled with water. Then with a ball, try to knock them down, bowling style.
This idea seemed to be the best idea for glowsticks. There is no cutting apart of the sticks and you use the light to guide your ball. Sounds like fun and the only problem is bringing ten plastic bottles and a ball with you.
Glow Bubbles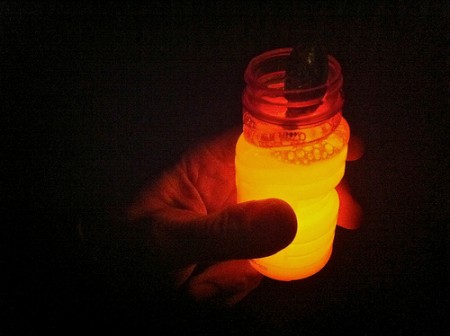 Glowing bubbles?! Yes! …but no. « blog.kriegsman.org bought a special bottle of glow bubbles, but they didn't work out for them. They could barely tell that the bubbles were glowing and they didn't show up on film at all.
Someone on Pinterest suggested cutting apart a couple of glow sticks and dumping them into your bubbles to create the same effect, but considering that the effect wasn't that interesting, I think I'll pass on this one.
Mountain Dew Glow Sticks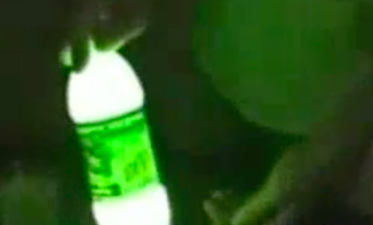 This activity doesn't require glow sticks, but it does require a bit of chemistry.
Ingredients:
1/4 bottle of Mountain Dew
1/4 teaspoon baking soda
3 teaspoons hydrogen peroxide
Directions:
Take the bottle of Mountain Dew and drink 3/4 of it, leaving 1/4 of it there.
Add a tiny bit of baking soda (approximately 1/4 teaspoon).
Add 3 teaspoons of hydrogen peroxide.
Shake the bottle well and enjoy the glow.
Here's a video showing you how to do it:
Of all the ideas, this one sounds the best. You get a refreshing soda AND a lesson in chemistry.
Glowstick Photography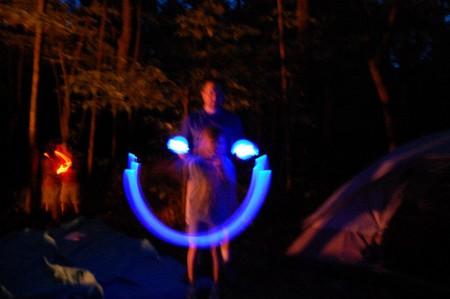 The funnest thing to do with glowsticks is move them around quickly when someone takes a picture of you.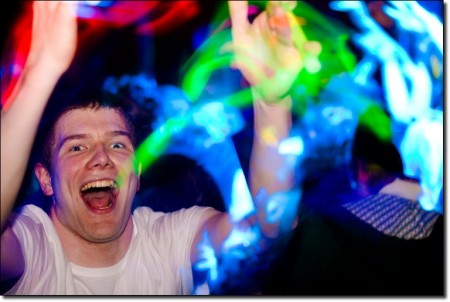 It's so interesting to see the path you traced with the glowstick while the camera watched.
Glow Stick Ring Toss
Momma Did It decided to create a holiday tradition for Independence Day that didn't have a huge fire hazard like fireworks, so she created Glow Stick Ring Toss.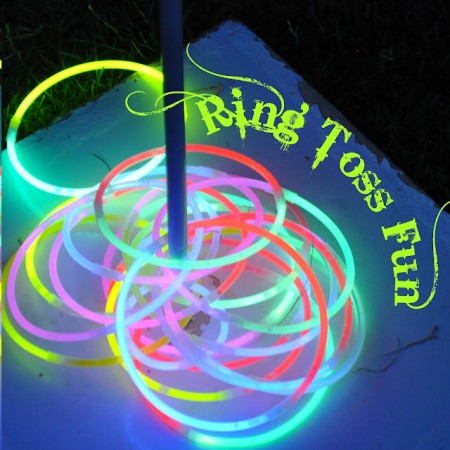 Take two of the glowstick bracelets and fit them together to make large rings. Then toss them at a horseshoe target (or set up one of the camping chairs for the target). Brilliant!
Glow Sticks in Balloons
I love these glow sticks in balloons.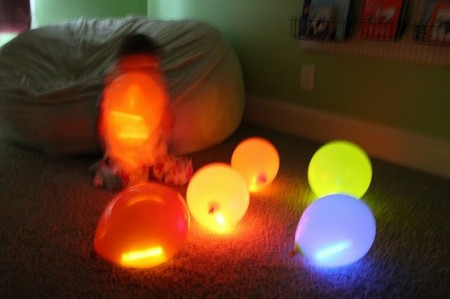 Unfortunately, it doesn't say HOW to get the glow sticks inside the balloons and the link to the original site is faulty. It looks good, though.
Creepy Eyes in the Bushes
Thrifty Crafty Girl had an Eyes in the Bushes Project that she did with Christmas lights, but glow sticks would work just as well. Save some toilet paper tubes and cut out different shapes of eyes in each one.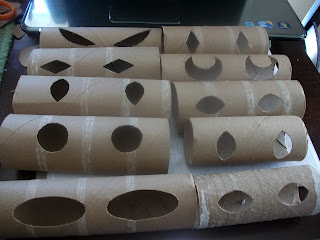 Insert a glow stick into each one and hide them in the bushes for a creepy "watching you" effect.
Next time you go on a camping trip, plan some fun activities for the after dark times using these ideas.
Via: