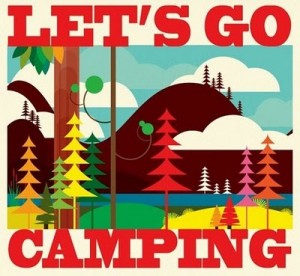 Families that Stick has a great comprehensive list of things to bring when you go camping. Some of it I agreed with and some of it wasn't enough information. For example, suggesting that you bring age appropriate activities for your children isn't really an item on a list. It's just not specific enough.
The MUST pack list, however was spot on:
Sanitizing wipes – For hands, spills and hotel rooms, pack travel size packs in each of your children's backpacks.
Sponge – Take a sponge and cut it into 2-inch strips then moisten and place in a Ziplock. These will be handy for quick washing of water bottles, children's cups, faces and more.  Toss each one in the garbage after use.
Earphones – Pack one set per person. Use with the electronics they bring along or for airplane entertainment.
Gum – Take along several packages of gum to help prevent ear pain. Chewing gum helps to pop plugged ears as well as keep them from plugging during takeoff and landing.
First aid – Create or buy a mini first aid kit complete with bandages, antiseptic wipes and children's pain relievers.
Ziploc – Pack extra, empty Ziploc in the various sizes they come in for dividing snacks, storing liquids items and more.
Reusable shopping bag – Great to use as a beach bag or laundry bag and for day trips and bringing home souvenirs in if you run out of space in your suitcase.
Plastic grocery bags – Stuff a couple in your carry-on bag just in case you need them for garbage or clothes that get spilled on.
The gum is great for when you're not flying as well when you are driving through mountainous regions, and the earphones are a godsend when you have more than one person in the car who wants to listen to music, video games or movies. Those plastic grocery bags are a life saver if you have a nauseous person in the car, as well.
The next time you plan to travel, give that big list a glance and make sure you have activities, supplies and meals planned. It will save you time and money when you're out on the road.