I was searching for some good ideas on how to store things in a tent trailer and I found this idea on Pop Up Portal posted by The Wunders. It's a bed shelf that comes in three pieces to fold flat for travel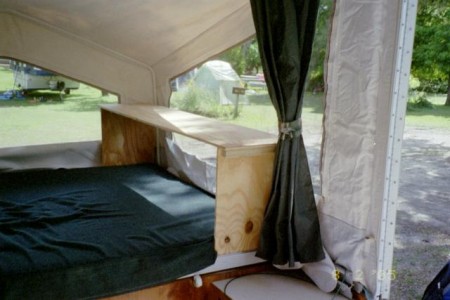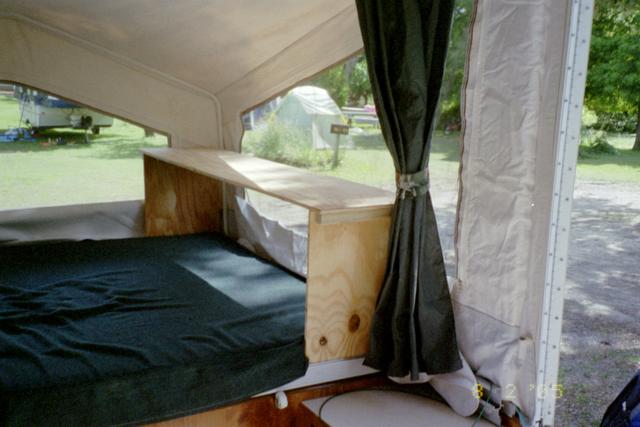 The Wunders said:
We built one of these for each bunk from scrap plywood and 2x2s. The side panels fit between the mattress and the bed rails. The side pieces fit snuggly between two pieces of 2x2s and are easily removed for flat storage. There is about 14 inches of space between the top of the bed and the bottom of the shelf which is more than enough room for our feet. Our clothing bins are placed on top along with glasses, books, etc. I have more pictures with measurements somewhere but can't seem to locate them right now.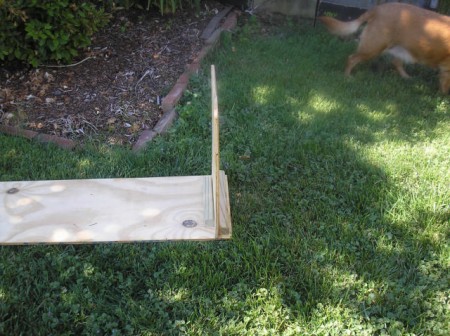 Do they get kicked off or fall down easily?
Having the shelves knocked down is not an issue. The shelves are so tight, it takes some muscle to disassemble them. Also, they fit down between the side of the mattress and bed rails, so they are very snug. We are able to put two large Sterilite drawers (side by side) on them and still have about two feet of available shelf space for other items.
I LOVE this idea not only for the extra storage it could give us, but it looks like it could double as a bed desk. I would like to make one with hinges or maybe follow this design that I found on Pinterest:

The more I look for good ideas for storage in our trailer, the more I am surprised and delighted by the ingenuity of people. I'm so excited to try this idea!