Since our trailer is so small, there isn't room for a porta-potty in it. We needed to find a privacy tent that was small and easy to set up. After much searching, we found one that worked for us.
The first privacy tent we tried was the Texsport Hilo Hut Privacy Shelter. We bought ours at Sportsman's Warehouse for $39, even though it was cheaper through Amazon because we wanted to be able to easily return it if it was too hard to put up. I wanted something that didn't take forever to put together. Unfortunately, I didn't find out how long it took the Hilo Hut to put up because the cheap plastic connector on one of the poles broke the first time we tried it. I returned the tent with the offending part taped to the outside of the box. It was very disappointing.
There was a bigger and better looking privacy tent at Sportsman's Warehouse that looked like this Texsport Deluxe Camp Shower, but this one looked even harder to put up than the smaller one. More importantly, the box for this tent was HUGE and I couldn't imagine where we would store the tent. I was keenly aware of the fact that I'm only getting a port-potty and privacy tent for those incredibly rare situations when we are camping without any hookups or access to bathroom facilities. They might be used if the campground bathroom is so far away that it feels dangerous to walk that far in the dark. This isn't a necessity that we MUST make room for. It's a luxury that I'd like to keep hidden in storage unless we need it, so this huge tent just wasn't an option for us.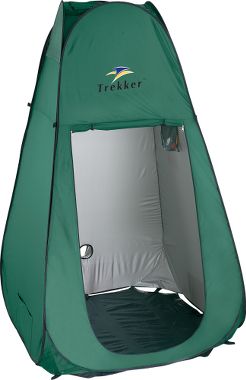 We ended up buying the Trekker Fold-A-Privy from Cabela's. It was the right size for Mike (who is quite tall), and set up was insanely quick. It is a pop up shelter, kind of like the sunshade Mike and I have for our windshield. All we had to do was pull it out of the bag and it popped open. Then we unfolded it and it was ready to be staked to the ground. There were no fiberglass poles to unfold and thread through the tent. There were no weird connectors to snap into pieces. It was a breeze. Additionally, it was a very small tent when folded, so I could easily squeeze it into the under seat storage in the trailer. It did cost $20 more than the Hilo Hut. My reluctance to buy it wasn't based on price, setup, or size, however. I was really worried that I wouldn't be able to get it folded back up. Fortunately, I found this video showing me how to get it folded back into the carrying case.
After watching that video twice, Mike and I were easily able to fold up the tent and get it back into the case. It really is a great little privacy tent for us.
If you don't have a Cabela's near you, I found a very similar tent for the same price on Amazon. It's called the Matter of Time Instant Privacy Pop Up Shelter. It looks like the Fold-A-Privy and I'm sure that the folding technique is the same. We were just eager to buy ours from a store where we could easily return it if we didn't like it, so Cabela's worked out for us. Look how good the Matter of Time looks with this retro Apache Hard Side Pop Up Camper.
If you are looking for a way to have a port-potty and need a small privacy tent, I really feel the pop up tents are the best option. If it's not easy to put up and takes up too much storage space, then you won't bring it with you and it won't be there for those emergency times when you need it.