One thing I loved about the teardrop trailer was that I could work on it in my own garage. That is a feature that is shared with a tent trailer. After a trip, I can pull our tent trailer into our garage, lift it up and out and be able to change sheets, unpack clothing and food and do whatever repairs are needed.
Here is a photo of our Jayco Eagle deployed in our garage.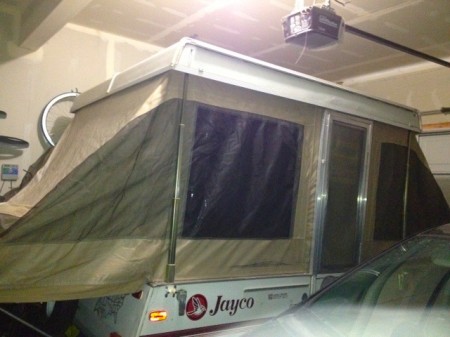 As you can see, when the bunkends are pulled out, the trailer barely fits lengthwise. When the roof is raised, there is less than a foot's clearance from the trailer roof and the garage door when it's opened. A similarly sized travel trailer wouldn't even fit under the garage door, so I wouldn't be able to store it in my garage. I would have to find a storage facility for it. Not so with the tent trailer.
Before a trip, I can open the trailer up and stock up the cooler, pack our clothes and other gear. I love that I can set things up perfectly before we go on our trip. Knowing that we have packed everything, calms my pre-trip jitters.
If my tent trailer was any bigger, however, I wouldn't be able to have this luxury. Our box is only 8 feet, so we can fit lengthwise. We don't have a high-wall camper, so we are short enough to fit under the garage door when it's open.
This is a feature that I wasn't expecting when we bought the tent trailer. I had enjoyed renovating our teardrop trailer in our garage and I wasn't even sure that a tent camper would fit even if it was fully packed up. I'm so grateful that I can pack the camper before a trip and empty it out afterwards in the comfort of my garage.