It all started with this photo: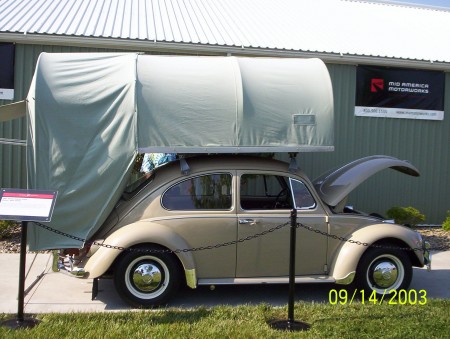 I found it on the Classic VW Beetle page and with a simple description:
Here is a VW Camper Bug
It was obviously an oddity because the picture shows a plaque next to the vehicle. How I wished I could read that plaque. What does it say and what the heck IS that thing?!
I found another photo of the same tent camper from a different angle on The Samba: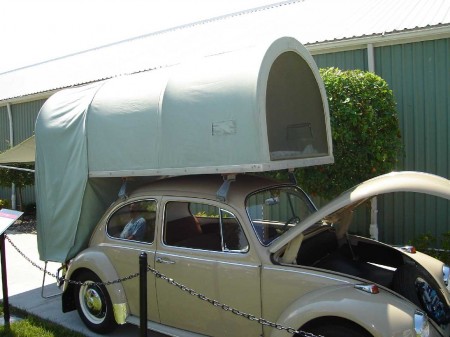 The person on that forum said:
Does anyone know if these roof top tents are worth anything.

I have never seen one and I think they are cool.
No one had an answer for him, though.
It took a lot of searching, but I found out what they are and found a bunch of other pictures of them.
I can thank the people at Non-westy tents for splitties (-1967) — and other VWs for identifying the tent for me. It is a Jiffy Camper made by Carbak Campers in Tampa, Florida. Here is a collage of photos from them.

They said:
John "Grungy" Gladu sent in these compelling shots of his Carbak Camper atop Frunobulax (ask him, not me). The main assembly is a flat-bottomed conestogaform tube with screens and rain flaps at either end.

Three internal metal hoops support the tube. At the rear, a plywood entry-step platform assembles with a vestibule (or perhaps, a non-Westy foyer?) to give access to a penthouse Bob Guccione never dreamed of. John reports a few mysterious features: the D-tab/pocket thingies in the vestibule opening, as well as small pocket/windows on either side of the main cabin.
He even posted the instructions for setting it up:
Once I knew the name, I was able to find a Popular Mechanics blurb about the CarBak Camper. It showed the tent deployed on an AMC Gremlin (instead of a VW Beetle), showing that it can fit on almost any compact car.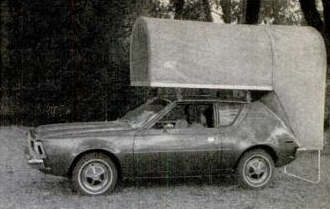 It reads:
Less wind resistance, fewer cylinders, smaller sizes, lighter weights all have new appeal for motorists stretching miles per gallon. A number of newly announced rigs are suitable for mounting on or towing behind compact lower horsepower cars. Others can be carried by the smaller import pickups. Predictions point to new popularity for camping tent trailers, plus growing – but more careful – use of all other RVs. – Bill McKeown

Pop-up penthouse Jiffy Camper fits compacts, is only 3 inches high when folded; $225 from CarBack Camper, 1115 Twigs St., Tampa, Fla.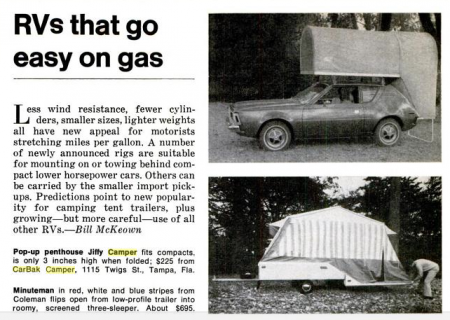 Reading that it was only three inches high when folded really made me want to see what it looked like folded up. Kevin on The Samba provided me with just that!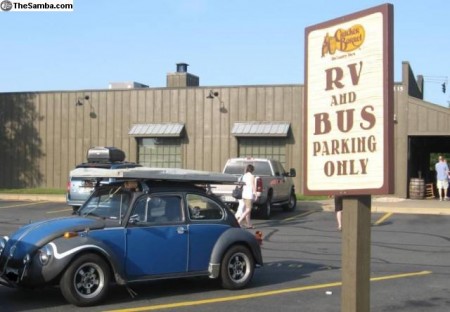 His CarBak Jiffy Camper might be a little frayed, but it looks fantastic on his blue VW Beetle.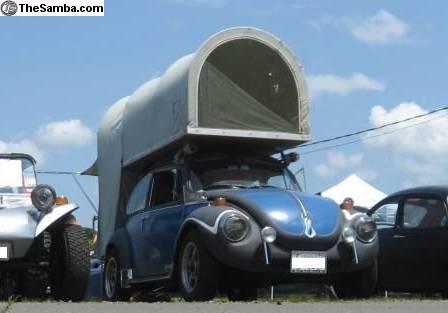 Thom2 on The Samba forum posted photos of Burny, his 1964 VW Beetle, and his Jiffy Camper.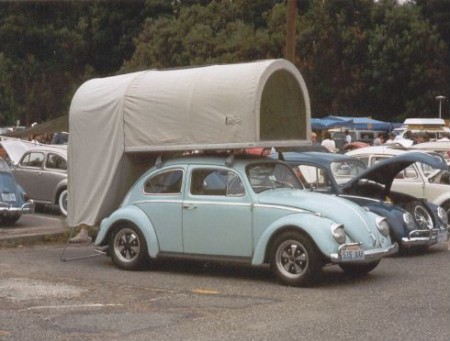 put-put…whee!! on The Samba also posted a photo of Burny from the Vintage VW Weekend in Washington 2003.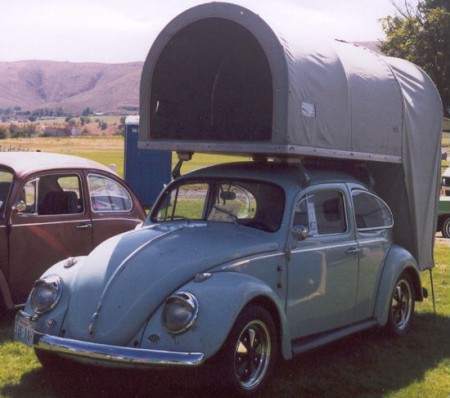 Long ago, this beetle was listed for sale on Motorkars, but it isn't there anymore. It's a beautiful picture, so click on it to see it full-sized.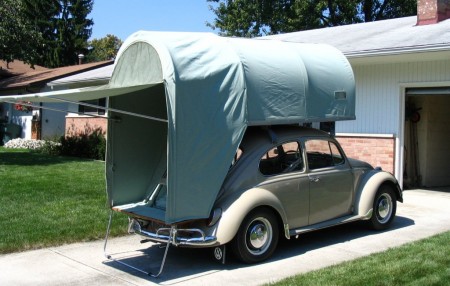 Finally, j.s. clark on Flickr has posted an entire photo set of his CarBack Tent Camper.
He shows us how many people could sleep in the tent, which looks like one person comfortably or two very cramped people. This shot also shows the nice pockets on the inside for your items like keys, glasses and your phone.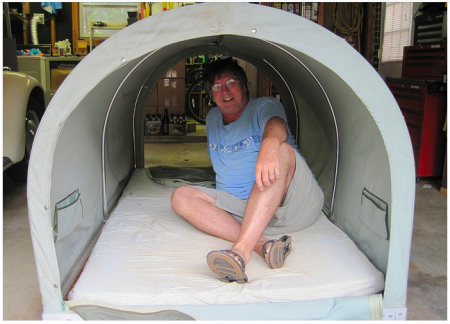 He also shows it deployed on his pickup truck.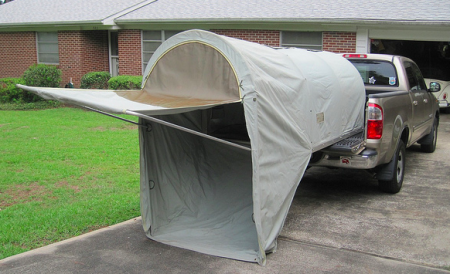 When I saw this photo, I realized why I loved the CarBack so much. It reminded me of the Sportz tents. In particular, it really reminds me of the Backroadz Truck Tent.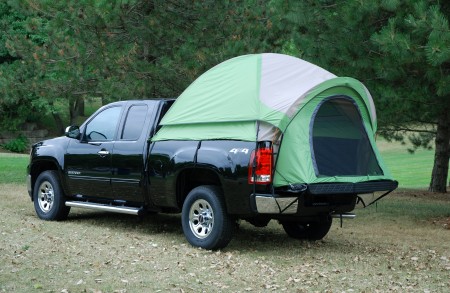 At only $190, it actually BEATS the original price of the CarBak Camper by $35, and that's not counting for inflation.
In every way, it appears that camping equipment has gotten better and less expensive. I love the retro stuff and I absolutely adore the new stuff that is coming out as well. Isn't progress grand?