While we were in Sand Hollow State Park, I snapped a quick photo of my rig. If you click on the picture, you can see it full-sized.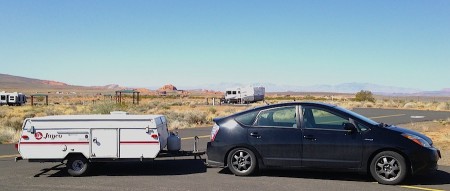 We have been towing small trailers with the Prius for almost a year now with no ill effects on the car or troubles scaling the Utah mountains. We waited until our warranty on the Prius was up until we started towing with it, but we have had no problems mechanically. This commercial I saw the other day made me literally scream obscenities at the computer screen.
It's Volkswagen making fun of Prius hybrids and I had so many reasons to scream.
That's complete bullshit! I can climb the Rocky Fucking Mountains towing a 1200 pound trailer and stay at the speed limit!

My Prius has needed NO major repairs and it's damn check engine light has NEVER turned on in the five years that we have owned it, unlike my LEMON of a VW BUG!

I have over 130,000 miles on my Prius! That damn Bug never made it past 75,000!
And we aren't the only ones. Just check out these videos of other people towing with their Prius cars.
Every time we go camping, someone comes up to us and asks how the Prius tows a trailer and are surprised when we rave about how well it handles. Plus, we get about 29 mpg when we tow, so we spend hardly any money on gas getting around.