I found this Scamp Fifth-Wheel for sale on Craigslist and it amused me greatly. I love it when people put their own personality into a camper and this camper now has quite a bit of personality.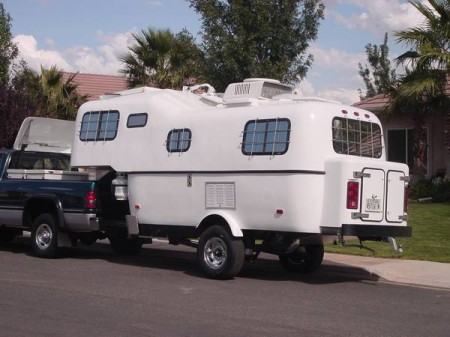 The owner wrote an epistle about it in the ad. You can see it here:
SCAMP 5th Wheel Trailer / Camper RV – Highly Modified

This Scamp 5th wheel is no longer anything close to a typical super light and limited Scamp 5th Wheel you purchase from the factory. First off, it's 2 1/2 times heavier. Why? It has everything.

Includes:
Furnace
70 gallons Potable Water Capacity
Nearly 60 gallons grey and black water capacity
Microwave
3 Burner LP Gas Stove
Air Conditioner
Honda 2000i Generator with electric start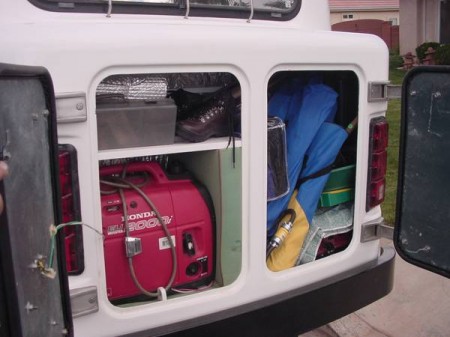 Stainless Steel Kitchen Counter Top Galley Area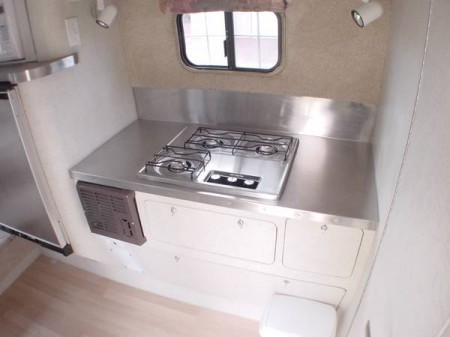 Stainless Sinks in both Kitchen and Bathroom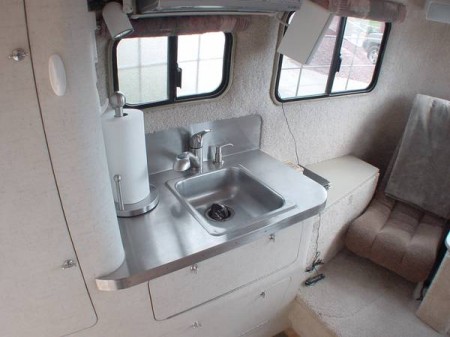 Full Fiberglass Shower / Bathroom Area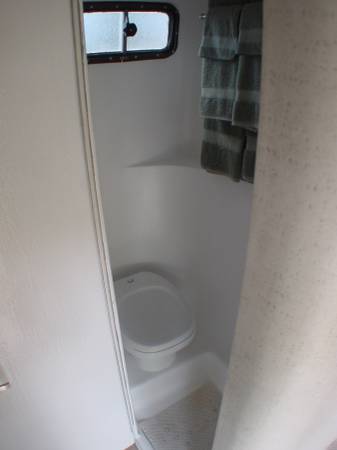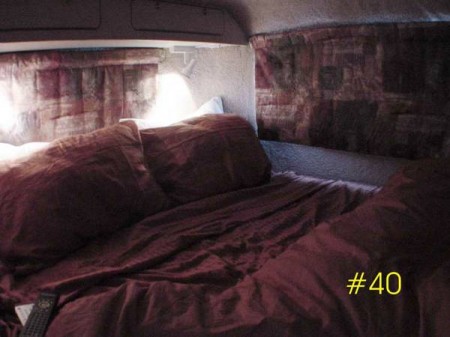 10 Gallon Hot Water Heater
Birch Wood Flooring
Stainless Steel Entry Threshold
Stainless Steel Guards on all Windows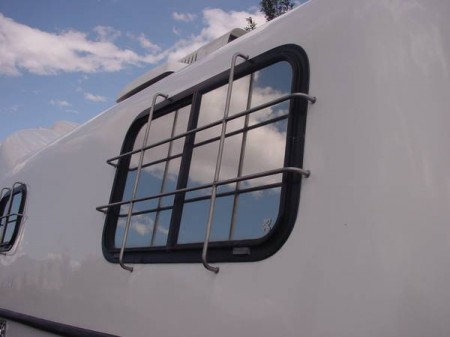 Triple Lock Entry Door with extra anti-breakin devices PLUS extra heavy Stainless Hinges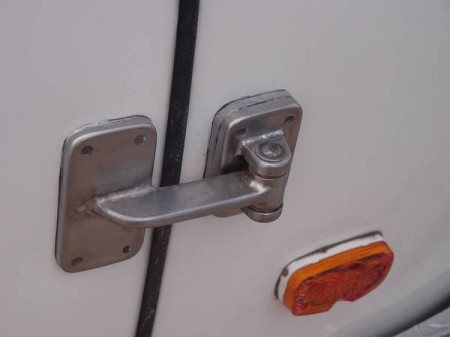 Door mounts to 1″ square solid steel frame around entire door jam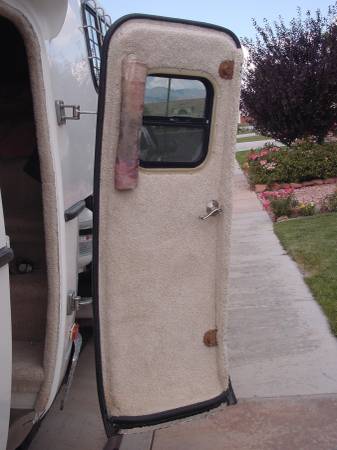 32″ Flat Screen HD TV on remote controlled lowering system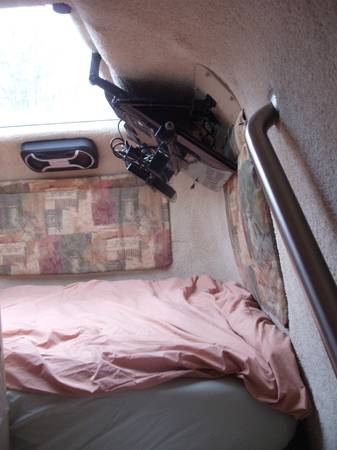 3′ x 4′ Thermo pane Opening SKYLIGHT over upper Sleeping Bunk Area
Solar Battery Maintenance System
Entire Water System including tanks are protected by HEAT TAPE controlled by Thermostat. When it's around 30 degrees out, it will cycle on and off.
Heavily insulated sidewalls and roof
3″ Rigid Foam Insulation under main floor and upper bunk floor
Carpeted interior sidewalls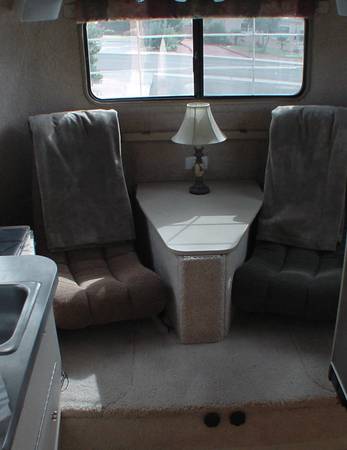 Interior Cabinets covered with tough flooring linoleum
Wired for 7.1 Sound System – no speakers
Blue Ray DVD Player
Set Up to received DirecTV Receiver Tuner
E-Rated 245-75-R16 TIRES on 16″ Wheels (same as Dodge Truck 3/4 Ton bolt pattern – believe same as Ford)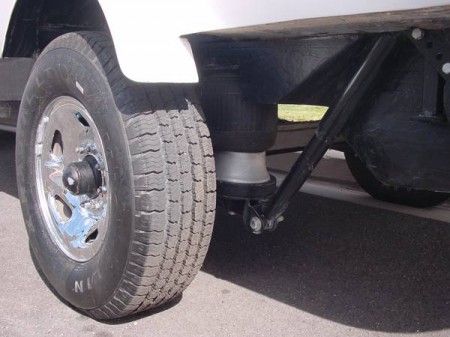 Fully Adjustable Air Ride Suspension with in-cab remote leveling controller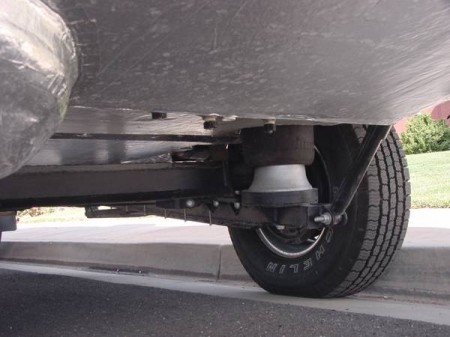 Long Travel Suspension with Dual Shocks and Torsion Bar for stability
7000 # Axel
Totally Free Flex Suspension Design…you can take this RV Camper anywhere
Air Compressor with 3 gallon air tank for pumping tires and suspension system
Full Hydraulic Front Jacks with pump
Satellite Dish ready – wiring in place
TV Antenna with amplifier
Carbon Monoxide detector / alarm
Mounted Stainless Coffee Maker
Mounted Stainless Paper Towel Holder
Mounted Stainless Waste Basket
Mounted Stainless Tissue Holder
Windows slide open (except bathroom cranks) with screens.
Exterior Entry Step raises for extra clearance for off road travel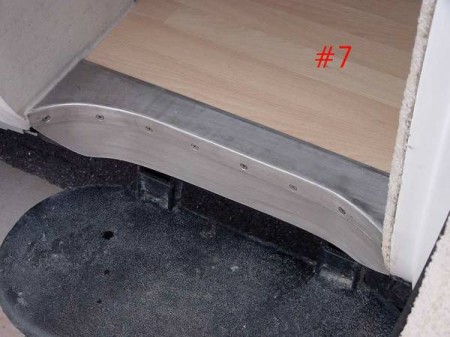 Goose Neck Hitch for maximum articulation/freedom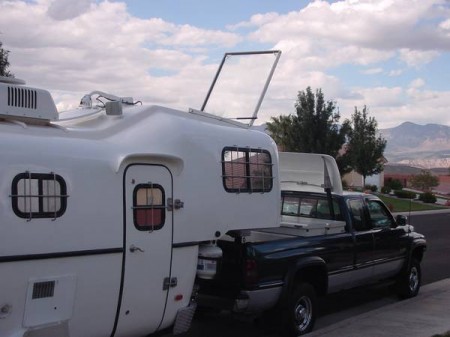 1600 Watt Inverter
Rear 2″ x 2″ HITCH RECEIVER capable of a 600 pound tongue load
Reflective Under Surface to reject high heat reflecting off hot summer pavement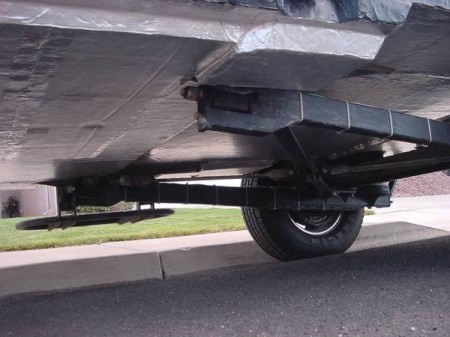 2 – 12V High Capacity RV Batteries
2 – 20 # Propane Tanks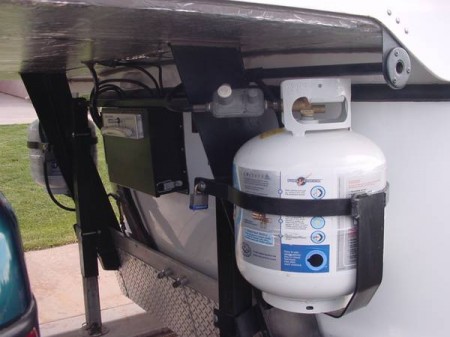 Genius Battery Charger and Monitoring System
13 Gallon Gas Fuel Tank for Generator
Wolfer Speaker in upper sleeping bunk
Stainless Steel Interior Grab Rails
Honeywell Heat Strip Controller
Ceiling Fan
Refrigerator – 4.2 cu ft, 2 door
16′ x 8′ Awning
Misc. Items: Towels, Toaster, George Foreman Grill, Frying Pan, Bed Sheet Set, 2 Comforter swith Duvet Cover, 3 small rugs, 2 sets of towels, and a folder with owner manuals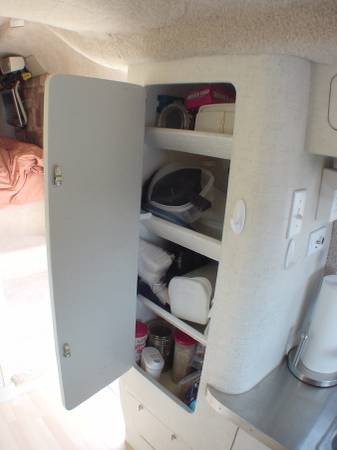 I invested 5 years of time and over $25,000 to develop this RV Camper. I started with a Scamp 5th Wheel because its only 6′ 8″ wide allowing it to get into real tight places. I stripped the original Scamp out completely including the frame. Yes, I started with just the original Fiberglass Shell and original windows. I added fenders, a back storage compartment for the generator plus extra storage for misc items. Then I redesigned the frame and interior. All interior cabinets are 3/4″ plywood that is screwed together every 2″ – 3″ apart with construction adhesive being used . This is one solid trailer. I have always said that you could crash, roll over and over down an embankment and it would stay in one piece. Just hook it back up and go on your way.

The new owner of this trailer (an explorer or adventurer, a hunter or fisherman) will find this trailer to be uniquely comfortable. Whether your in a snow storm or a down pour, in desert heat or northern sub-zero temps, this camper is extremely cozy and capible.

If you are 6'4″ tall, this probably won't work for you. I'm 5'11" tall and can stand up tall anywhere inside or stretch out full height in the sleeping bunk – so 6″ tall would probably be about the comfortable height limit.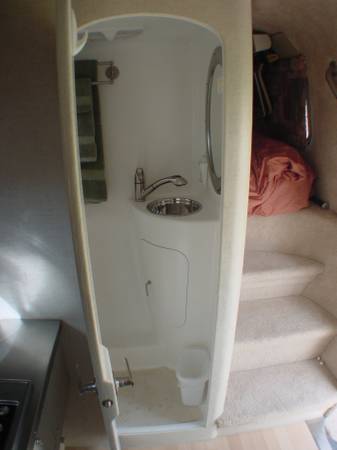 Insulated great – with 4 adults inside the trailer in 45 degrees temperatures, you won't need the furnace. Just the body heat will keep it comfortable inside.

There has been some changes since these pictures were taken… just improvements.

The Rear section of the trailer converts from table + benches to a queen size bed area (we used a blow up mattress which is not included) or a sitting area using two banana chairs (chairs not included). There's tons of storage area under the benches. The only thing this trailer lacks is a dishwasher and clothes washer/dryer.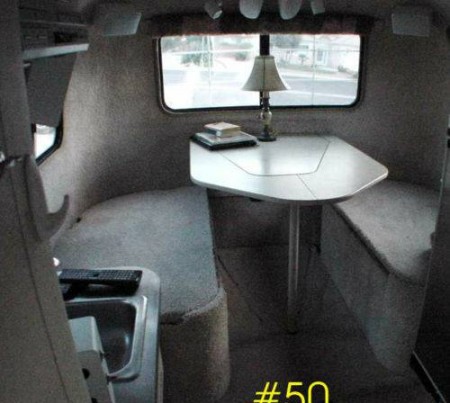 Trailer can sleep up to 4 individuals.

Trailer totally modified in 2003 even though the title states 1987. The only things original are the fiberglass shell and the windows. EVERYTHING else replaced in 2003 or later.

If you only have a 2 wheel drive truck, you won't be doing justice to this camper. This RV Camper will follow anywhere your 4 wheel drive truck will go. I've taken it down many Jeep only trails with ease.

This camper is in great condition and ready to hit the outback. When traveling with this camper, 4 out 5 trips people have come up to me to ask about it. There is nothing like it at all out there.

I have a Utah Title which is available to sign directly over to you.

Asking $21,500 or best offer.