I love this photo I saw on Facebook the other day: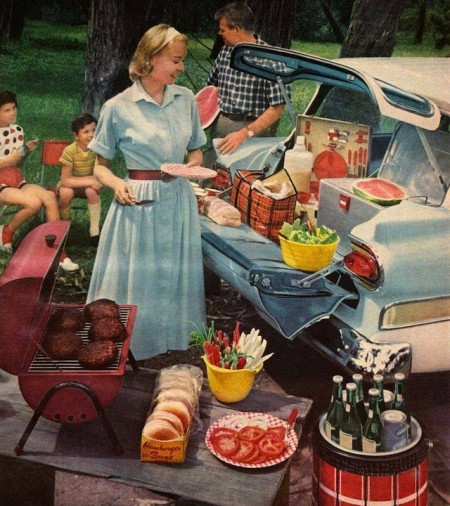 When I was little, my dad had a Wagoneer that he said he was going to make into a camping vehicle. He never did that, but this is how I imagined it would look. I have been obsessed with teardrop campers for a long time and any car with a galley set up on the back like a teardrop just makes me swoon. Every car I have looked at, I've imagined what I could do to build a galley in the hatchback so we could camp easily.
The tent trailer should have cured that disease for me, but it didn't and I know why. We can't make meals when we are traveling. I have a fantasy that looks very much like this picture. It's lunch time and we are halfway through our day's drive. We stop at a day use area, use the restroom and eat the bountiful lunch that is just sitting in the back of the car waiting for us. No fast food. Just half a watermelon under Mike's arm and half-pound burgers on the grill.
I can't do that with the tent trailer because we'd have to pop it up to access the food in the cooler. I STILL obsess about a galley off the back of my car because in bear country, we keep the food in the car anyway. Ain't no trailer that can keep a bear out, so we don't store any food in the camper when we go to Yellowstone.
As good as our little Jayco is, it will never be able to be as inviting as this retro tailgate galley.