I saw this on Camp Confessions and it made me remember the best thing about travel.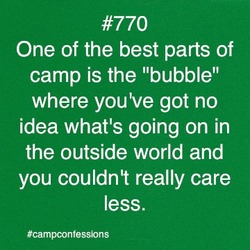 It reads:
One of the best parts of camp is the "bubble" where you've got no idea what's going on in the outside world and you couldn't really care less.
Honestly, this has never happened to me while we've been camping. We only go camping for a few days at a time and it's rarely enough to give me that "bubble." I have had that feeling on a cruise, however. You can just tell by the looks on our faces that we are in that "bubble."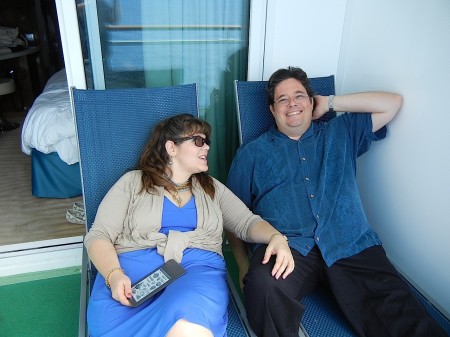 I don't know what creates that bubble. I think part of it is time. When you only have two or three days for your trip, it's hard to forget that the world is not out there. It ISN'T, actually. Tomorrow, you have to pack up and go home, so it's right there, in your consciousness. That picture was taken in the middle of a seven-day cruise. The reason we were able to be in that bubble is because the ordeal of going home was days away.
I would like to be able to go on a camping trip long enough to create that bubble. I don't know if moving from place to place every day would create it or if we would have to stay camping in one spot for a week to get that feeling. I don't know the exact nature of how to create that bubble, but I want to try to make one, even if it's just once.