I found this quote on The Quotations Page and it made me so excited to travel.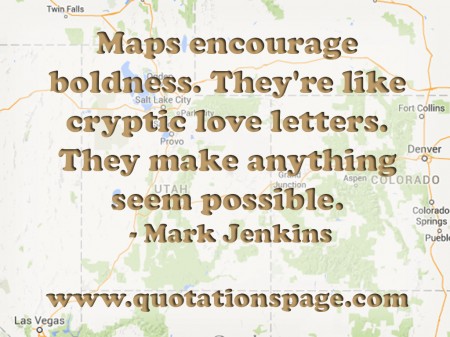 It reads:
Maps encourage boldness. They're like cryptic love letters. They make anything seem possible.
I have the same feeling about maps. Whenever I was riding in the car on the way to or from my grandparents' house in Billings, Montana, Grandpa would throw the map in the backseat and tell me to navigate. It helped me so much to learn how to find ourselves on the map and to plot where we would be going next. We always went the same route from Salt Lake to Billings: through Idaho Falls, over to West Yellowstone, up to Bozeman and over to Billings. Even though they were smaller roads that route, it was faster for us to go that way (unless West Yellowstone was snowed in).
Now, Google plots it all for me, assuming that I can go the speed limit, not knowing that my tiny trailer's tires top out at 65 mph. So, I change the route. Smaller roads don't slow me down because I can only go 65 mph anyway. I'm already slow.
The next time Google plots a route for you, try going a different way. Really USE your map and choose a route that has something to look at on the drive. And when your first instinct is to fly, suppress it. Take the car and actually SEE the places you pass by. Let the map give you boldness!