I adore road trips, but I have read very few books in which the characters go on a road trip. In fact, of all the books mentioned in this obsessively detailed map of American Literature's Most Epic Road Trips from Atlas Obscura, I have read NONE of them. NONE…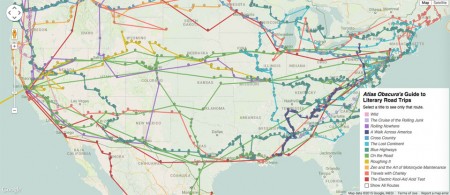 Here is the list of books:
If you are unable to travel this year, take a trip in your mind with one of these books. I'm sure there is one here that will give you the feeling of being somewhere else.
Via Engadget – ​This interactive map crams in American literature's greatest road trips