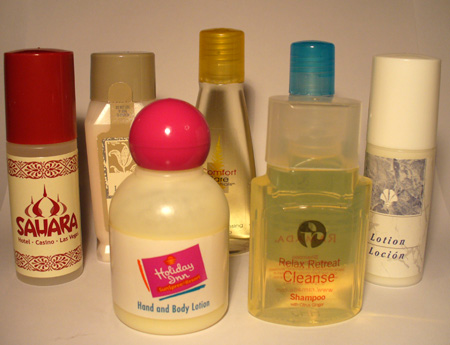 Every time you stay in a hotel, they give you a little bottle of shampoo, conditioner or lotion. There's never enough shampoo in one of those bottles to wash my hair once, so the bottles are no good for reuse when traveling. Or are they?
There are lots of products that I want to take with me when I travel that I used to leave at home. My facial cleanser is one of them. I always used to tell myself that I can just wash my face with normal soap and then I would wonder why my face would break out EVERY time I went on vacation.
If my facial cleanser came in a travel or trial size, I would have gladly bought it, but I've never been able to find it, so here's what I did so I can travel size MY way.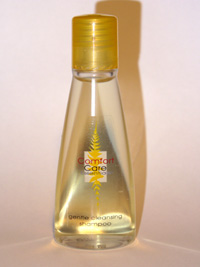 Firstly, I found my favorite shaped bottle out of the huge pile of saved bottles of free samples from hotels I've collected over the years. I liked this bottle because it was easy to squeeze the product out without damaging the bottle. Next, I used up the shampoo that was in there. It wasn't enough to get my hair to a soapy lather, but at least I didn't waste what was in there.
I cleaned the bottle thoroughly with hot water to remove all the shampoo. The best way to do this is to fill it halfway with hot water, cover the top and shake the bottle. Since you can't fit a brush or cloth in the tiny thing, shaking it up with hot water is the best way to clean it out. After about ten "fill, shake and dumps," the water quit bubbling and came out clean. I dried the bottle exterior thoroughly.
Then I went to Google Images to find an appropriate label for the bottle so that I would remember what I put in here. I typed, "Neutrogena Foaming Facial Cleanser" and instantly, I found several images of my favorite product. Right click on the best one and choose "Save Image As…" to save it.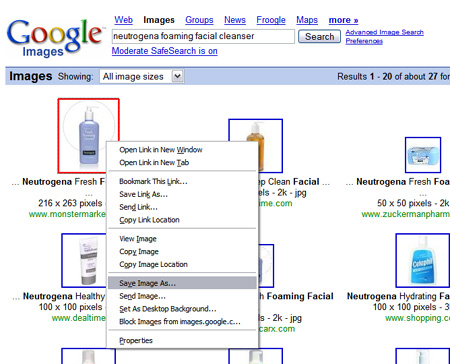 After saving the image, I used Adobe Photoshop to print it up, but you could also use the Windows Picture and Fax Viewer. I cut out the photo and used clear packing tape to attach it to the bottle.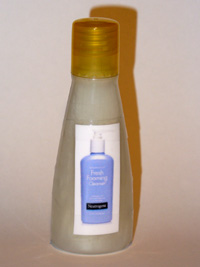 Make sure you completely cover the photo with the packing tape and that it is sealed all the way around the picture. Otherwise, the photo will run if you get the bottle wet.
Here is what is now in my travel case. This bottle couldn't hold enough shampoo for my hair for a week, but it easily holds enough facial cleanser for that long. Go find that pile of free shampoo and conditioner in your bathroom drawer and set up a travel case for yourself with your favorite products. Next time you travel you'll have the shampoo, conditioner and facial cleanser of your choice instead of being at the mercy of whatever the motel was willing to give you.