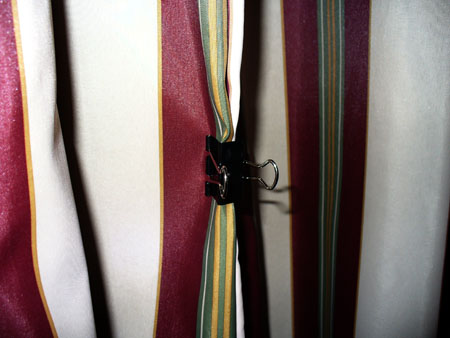 Binder clips are used in offices all over the world to keep large groups of paper together, but they happen to be one of the most important travel essentials when you are staying in a hotel. Hotel curtains are horrible. It's a rare occurence when you can find a hotel curtain that will open easily, close easily AND stay closed. The most irritating failings of hotel curtains is the inability to stay closed. I don't want a crack of light streaming into the room. I don't want a tiny peephole into my room for other hotel guests.
I want the curtains to be fully closed and stay fully closed.
That's why my travel bag has binder clips. They are the perfect tool for keeping hotel curtains closed. It's amazing how much peace of mind a little ten-cent item can bring me. When I'm traveling, I am already out of my comfortable environment. I don't want to have to worry about peeping strangers. I don't want to wake up at 6am with a sliver of a sunbeam in my eyes on my vacation. That's why the binder clip is the most important travel essential.