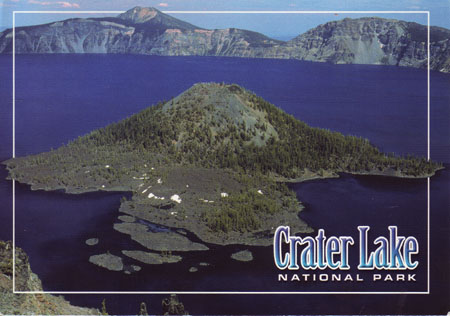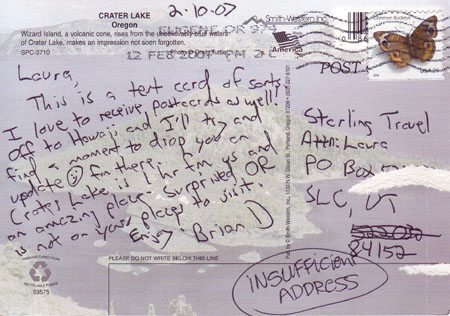 We just received this postcard from Brian D. in Oregon. It's amazing that it arrived to us because it was damaged in the shipping. If you can see, our P.O. Box number was accidentally ripped off of the card. Fortunately, Brian had inadvertently written our box number as the zip code and then crossed it out. I don't think it could have gotten to us otherwise.
Serendipity!
Brian says he's surprised that Oregon isn't listed in one of my places to visit, and quite frankly, I'm surprised as well. Mike and I spent a lovely week in Oregon last year at the foot of Mount Hood. I'm shocked I didn't write about it. Never fear, Brian! I'm going to drag out the photographs I took and write a few entries about our lovely stay in Oregon!
---
Please send me a postcard from your travels or your hometown. If you do and it's interesting, I will publish your postcard on Starling Travel.
Send your postcards to:
Starling Travel
Attention: Laura Moncur
P.O. Box 522032
Salt Lake City, Utah 84152
It's like sending a postcard to the whole world when you go on vacation. It's like bragging about your hometown to the everyone on the planet.