When I considered building a Wild Goose teardrop trailer of my own, I thought that I might change the design and have the trailer open from the back instead of the midsection. It seems that I wasn't the first to think of that design.
The most notable is Woodwind Caravans. Unfortunately, they have stopped production on their teardrops, but you can still enjoy their design beauty in their videos. Here is the setup video for their FreeSpace Trailer.
They also had a design called The Gypsy King that was simply beautiful.
I even found an animated GIF for a folding teardrop trailer with no record of where it came from.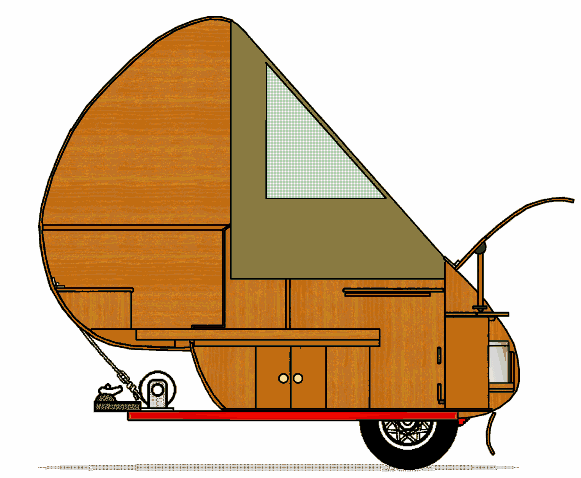 The Alto Trailer from Safari Condo is still in production, but they are in Canada, so finding one in the States is a little difficult. This video is adorable. He is so excited to show how it lifts up.
The inside looks roomy and the sides are windows instead of canvas.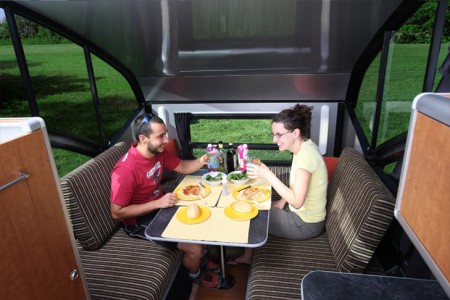 The difficulty of obtaining one of those trailers from Canada stopped me from owning one now, but I sure do love these variations on the Wild Goose theme.
Update 12-09-14
The Australian-made trailer Conqueror UEV-360 is another Wild Goose Variation.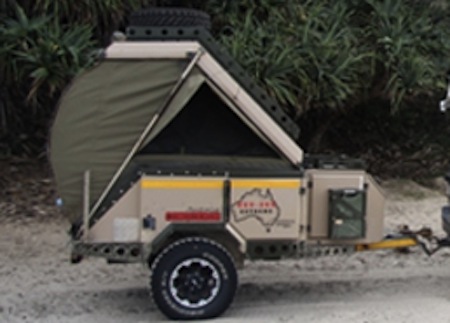 Here is a video of its easy popup features. Fast forward to 2:20 minutes to see the trailer in action.
I love the ease of setup with this trailer, even though it's smaller than a normal Wild Goose. Why does Australia get all the cool trailers?
Update 02-26-15
Back in 2006, A-Liner made a Wild Goose variation. I found this one in August 2014 at a campground and wrote about it here: