The two biggest producers of teardrop trailers are Little Guy Teardrop Trailers and Camp-Inn Teardrop Travel Trailers. Both of them make retro-styled trailers, but which one is better? Is it worth it to drive all the way to Wisconsin to buy a Camp-Inn? Is it better to just go to a local dealer for a Little Guy? Starling Travel is judging these trailers to answer just that using these criteria: Retro Styling, Kitchen Features, Pricing, and Availability.
Continue reading for the rest of the story:
Retro Styling
I've found that the whole reason I'm attracted to teardrop trailers is because of their retro style, but which trailer is the best for retro styling? The Little Guy Silver Shadow looks silver, like an old Airstream trailer, but in person, it doesn't shine like one.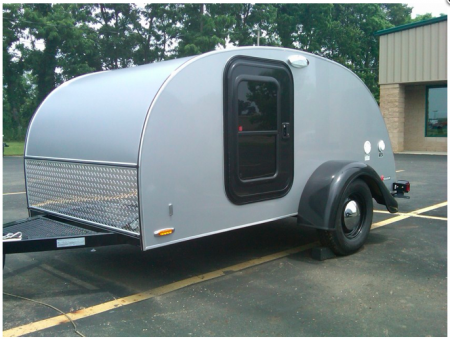 The Camp-Inn 550 Base Model, however, is VERY shiny with a lovely aluminum exterior.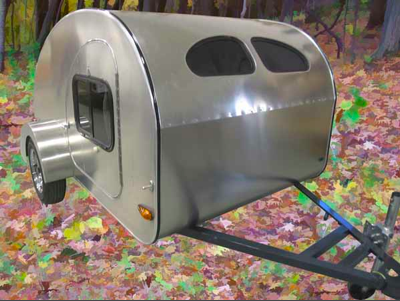 The Camp-Inn 550 Classic (which has some cool extra features), however, has an ugly storage lump on the front, interrupting the streamlined style. Even though the Little Guy has less storage, it looks better than the 550 Classic with that lump on the front.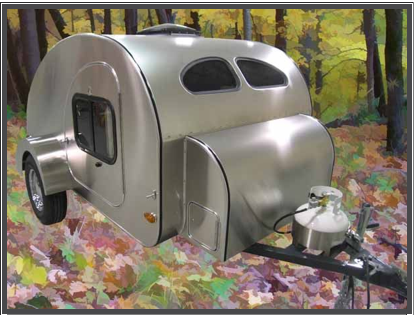 In the end, however, the shiny aluminum exterior and the uniquely shaped windows of the Camp-Inn wins the retro-styling section of the competition.
Retro-Styling Winner: Camp-Inn 550
Kitchen Features
Both Little Guy and Camp-Inn have minimalist kitchens on their base models. The Little Guy kitchens are simply a shelf in the back of the trailer.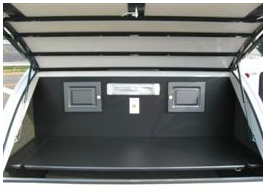 Their upgraded kitchen has an 8 gallon water tank, a sink with pump, a 12V refrigerator and a pull-out camp stove (you can't see it in this photo because it's in one of the drawers).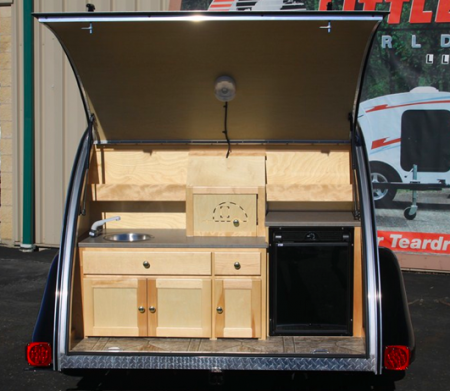 The Camp-Inn kitchen is really where it shines, quite literally, with a stainless steel kitchen that looks like the kitchen in a fine restaurant. This is the base model, without any features, but it still is quite beautiful.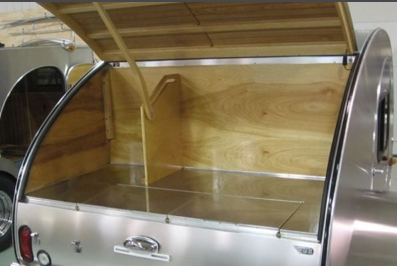 When you look at all the features of the upgraded kitchen, however, Camp-Inn has much more to choose from.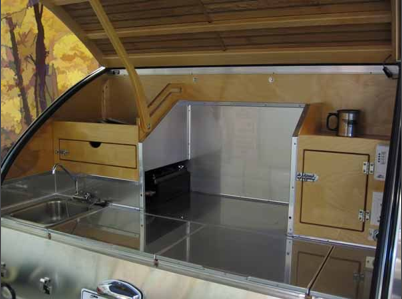 It has an 8 gallon water tank with a grey tank reservoir (the Little Guy just drains on the ground). There is a stainless steel wind guard for your camp stove.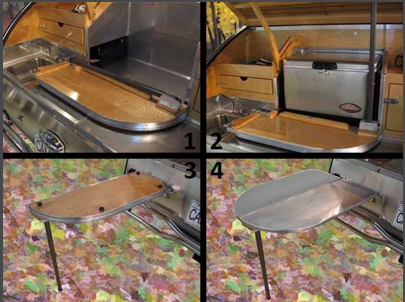 There is a folding side table that gives you extra workspace near the sink.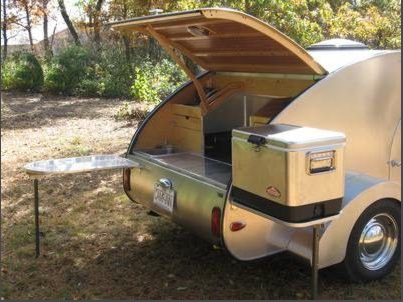 There is also a cooler stand to the right of the kitchen to keep your cooler off the ground. Personally, I think this stand is a little too tall for a cooler. I would have a hard time reaching into it at that height. That table could be used for eating, however.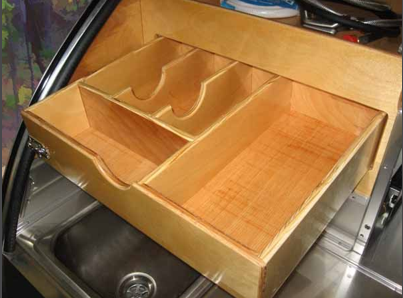 Camp-Inn even has a cutlery tray to organize your camping dishes.
What they DON'T have, however, is a small refrigerator, like the Little Guy upgraded kitchen does. Even without the fridge, Camp-Inn wins on kitchen features because they look better and have the options for tables that attach right to the trailer.
Kitchen Features Winner: Camp-Inn 550
Pricing
Pricing was quite difficult to come by. The Little Guy website doesn't mention prices, so I had to find a local dealer, Mark Miller, to see what I could get, but their website was down. I had to keep looking until I finally got to Bretz RV in Montana. They had a fully upgraded Silver Shadow for $11,995.
Last month, at the RV show, Mark Miller offered a fully upgraded Silver Shadow for $8495, so it's possible to get the best Little Guy has to offer for under $9000 if you're looking carefully.
Camp-Inn, however, has their prices listed on their website here: Camp-Inn Teardrop Pricing
The Base model of the 550 is $8891, which doesn't include any of the cool kitchen features. If you want those kitchen upgrades, you'll pay something between $11,951 and $15,790.
As far as pricing goes, the Little Guy Silver Shadow is the clear winner.
Pricing Winner: Little Guy Silver Shadow
Availability
Not every state in the United States has a dealer for Little Guy, but more do than don't. You can find your closest dealer here:
Camp-Inn, however, doesn't deal with RV dealers. To buy one, you must pre-order it and wait 5-7 weeks while it is built. They will deliver it to you wherever you are, but you can't just walk onto an RV lot and pick one up (or even look at one to see if you fit in the sleeping chamber). If you live in Wisconsin, however, you can visit their site and they probably have a couple of units to look at.
Availability Winner: Little Guy Silver Shadow
Conclusion: Which Is Better?
It's a hard race to call. The Silver Shadow isn't quite as pretty as the Camp-Inn 550, but I can walk into my local RV dealer and buy one off the lot without having to order it and go to Wisconsin to pick it up. The 550 isn't as inexpensive as the Little Guy, but it has some cool things that the Silver Shadow doesn't.
In the end, it's a decision of beauty over convenience. Is it more important to you to be able to buy your trailer within driving distance of your home? Is it more important that your trailer reflect the sun like a WWII bomber? Only you can make that decision, but for me, I think I'll stick with my tent.
All photos via: