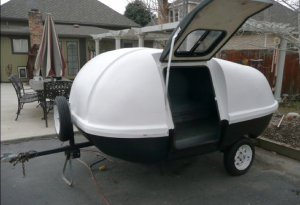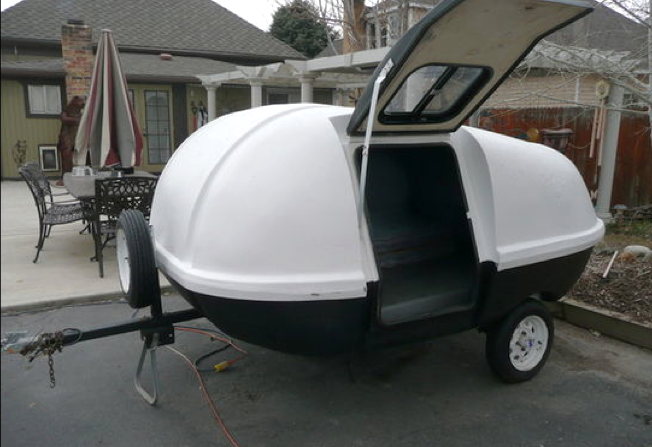 After months and months of a teardrop trailer obsession, I have finally found one for myself. After so many unsuccessful tent camping attempts, we got to the point where we were able to consider a simple trailer.
Last month, on our trip to California, Mike and I had planned to camp in our tent for a few of the days. Unfortunately, our plans were foiled. The first night was cancelled when the torrential rain and 50 mph winds blew a semi truck off the freeway on our drive from SLC to Las Vegas. Mike had been begging me to let him make a reservation at a hotel in Vegas so we wouldn't have to put up the tent in the rain. When we passed the semi, stranded on the side of the road, a victim to the wind, I let him call the hotel he had in mind.
Then, our trip to California was beautiful and perfect, but the March wind over the ocean cancelled our camping at San Elijo State Beach. It was early evening and the temperature on the car said it was 65 degrees, but that wind felt colder than winter, cutting right through my clothing. Once again, I let Mike arrange for a hotel night stay.
After this last trip, both of us realized that we wanted a trailer. Not a large one that would blow us off the side of the road like the unlucky semi we passed on I-15. A TINY and light teardrop that would follow our Prius like a dream.
Last Thursday, we found one in the local classifieds. The owner didn't know the name of the trailer, but it looked like it would work for us, but only if Mike fit. Here are the pictures of it that were on KSL.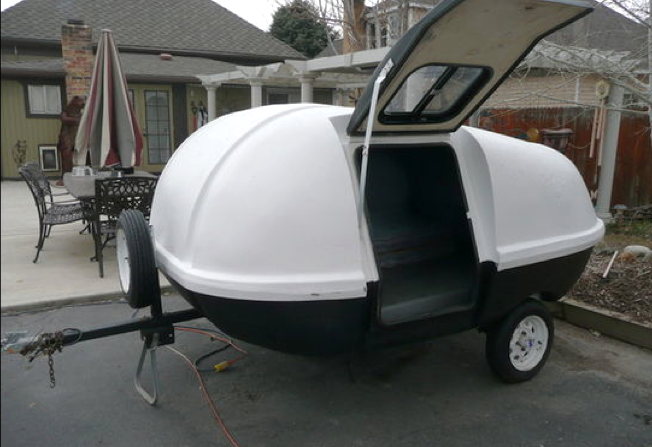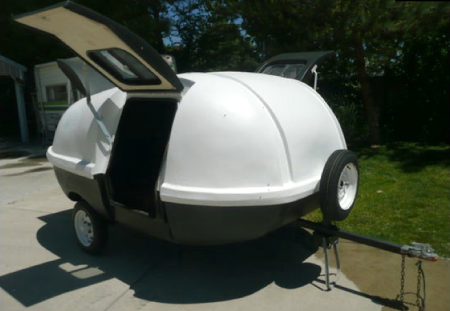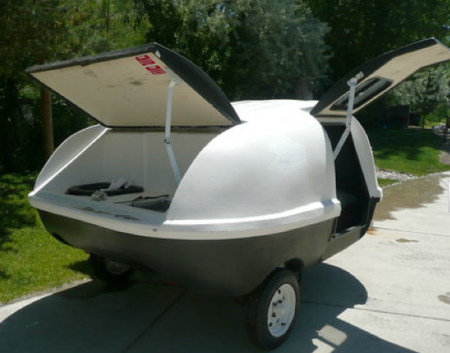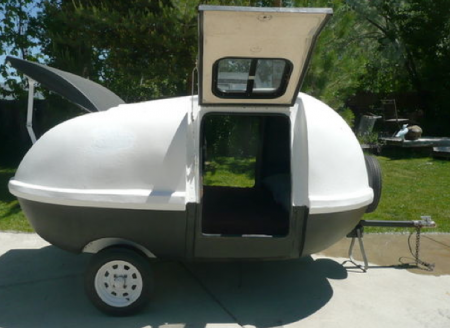 The inside was roomy enough for Mike to lay down without hitting his head or scraping his feet (unlike the T@B Clamshell). It's a teardrop design, so it's strictly a bed on wheels, but the headroom when we sat in it was tall enough that Mike could sit up fully without bumping his head.
It was just barely big enough for Mike to be able to sleep in without setting off his claustrophobia. It was the first trailer (of the MANY) we had seen that he was actually excited about.
When the owner of the trailer picked it up by the tongue and dragged it around like a wheel barrow, Mike and I were sold. It was OBVIOUS that this little trailer would have no trouble being hauled by our Prius, which has a tow rating of ZERO in the U.S., but Europe rates it as being able to tow 1000 pounds.
We gave him all the money that I've been saving for months and months, bought a hitch that would fit it and towed it home.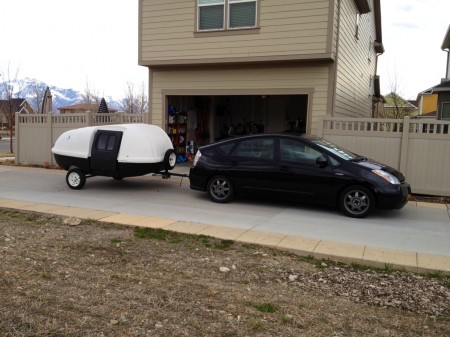 While I was nervously driving it, watching the trailer track behind us like a dream in the rear view mirror, Mike researched the trailer on his phone. Within minutes, he knew the brand name: the Teardrop American Outbacker.
It was made by Teardrop American, Inc. in Wenatchee, WA in 1989. By 1990, they were out of business, so they only had a run of a single year. I thought that our new trailer was made of fiberglass, but it's really polyethylene plastic. That plastic is strong, but incredibly light, so our trailer weighs approximately 350 pounds, making it even better for towing than a teardrop I could make out of wood (i.e. Trailer For Two or The Wild Goose).
When I think about my Tent Vs. Trailer post, I find that this little trailer is as good as a tent, but better because I won't be shivering in the cold.
Tent Camping is Cheaper
This trailer is so small that when we towed it home, it brought our gas mileage from 40 mpg down to 35 mpg. That is better gas mileage than most normal cars, so we still get the benefits of traveling cheaply in a Prius with the added benefit of a warm and dry trailer.
Tent Camping is Interchangeable
This trailer has nothing in it. No fridge. No stove. No lights. Anything that we want to change on this trailer is completely up to us and easy to exchange, just like a tent.
Tents Never Flip My Car in the Wind
This trailer is low profile and so light that it is virtually unaffected by the wind.
Black Water Is Black Water
There is no toilet in a teardrop camper, so if I want to boondock, I'll need to bring a port-a-potty. Mostly, we camp at campgrounds that have a minimum of a vault toilet, so we don't really need to deal with black water.
Propane Heat is Dangerous
Did I mention that this trailer has nothing? No heater means no death by carbon monoxide poisoning or oxygen asphyxiation. The trailer will be much warmer than my tent. The biggest worry we'll have with this trailer is extreme heat in the summer. I've heard that they are quite sweaty in warm weather, but the Utah mountains are so chilly that I have my doubts whether we'll experience this.
Trailers Don't Have Generators
Getting electricity at a campsite is sometimes difficult. Campgrounds are willing to let a trailer park in a tent site, but rarely let a tent camper camp at a site with hookups, even if we were willing to pay extra. It will be EASIER for us to get electricity at a campground now that we have a trailer if only because we don't need a 10'X10′ swatch of ground to stake down our tent.
Setting Up A Tent Doesn't Take As Long As You Think
The beauty of a trailer that only weighs 350 pounds is we can drag it off the hitch to set up camp. Simple wheel chocks are good enough to secure it. Leveling is something that will only affect us in the boonies. Our bed is always made up, so all we have to do is open the hatch, remove the table for the camp stove and our camping chairs. We had the setup process for our tent, air mattress, sleeping bags and camp kitchen down to thirty minutes, but I'm thinking that this little trailer can be done in about fifteen.
Setting Up Camp Is Kinda Fun
We still get to set up camp, deciding how to arrange the trailer and our chairs. It will just be a lot less physical labor to get it done.
Does It Count As Camping When You're in a Trailer?
In this trailer it does because all we can do is sleep in it. Cooking and relaxing happen outside the teardrop because there is no room for anything else.
Negatives
Now, this trailer isn't going to be all sun and roses, I realize. The kitchen on the back of the trailer is made of the same plastic as the rest of the trailer, so I need to have a separate table to support my propane stove if I don't want to melt my little teardrop. That's extra gear to set up and take down. It's also something that would have to be put away if I don't want it stolen from the campsite.
Speaking of stealing, this trailer is so light that someone could literally WALK away with it. I'm sure no one has actually had a trailer like this stolen by hand when the hitch had been locked, but that doesn't stop me from worrying about it a bit.
Additionally, it won't solve all my weather problems. That rainy night in Las Vegas would have been a cramped and unpleasant stay in the teardrop. Mike and I are going to have to learn how to deal with rain when we are forced to spend a few hours in the trailer. In our Springbar, we have easily sat in our camping chairs while the wind and rain raged on. Of course, we were shivering cold the whole night.
Finally, this trailer is in desperate need of remodeling. The mattresses in the trailer were dusty and I felt as if cooties were attacking me when I saw them, so they had to go. There is an awkward lip on the bottom of the trailer that needs to be leveled so a mattress can lie on it properly. The paint was chipping and peeling, especially in the galley. If I don't want to consume paint chips, I have to get this thing stripped and painted. None of the doors had locks. They were just held closed by gravity and bungee cords.
I will show you all these renovations when we complete them, but I'll be documenting the progress on my personal site, Pick Me!, since Starling Travel is about TRAVELING, not fixing up an old trailer.
In the end, we bought ourselves a trailer, despite trying to talk ourselves out of it for months. Despite all the work ahead for me, I'm excited to get this baby water tight, comfortable and brightly painted. Wish me luck!
A special thank you to the Fiberglass RV Community for identifying my trailer.
Without you guys, we'd still be thinking it was some homebrew trailer made of fiberglass instead of plastic.