I was poking around the U.S. Patents, looking for interesting things and I found this: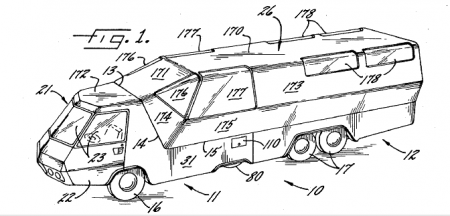 The description isn't quite as impressive as the drawings of the vehicle:
A recreational vehicle of composite construction made up of a power unit, or tractor, and a self-supporting living unit, the units being telescoped together and interfitted to form a single rigid structure for safe and easy driving at highway speeds.
As good as it looks when the vehicle is driving, it has a few tricks up its sleeve. The drive train separates from the living space so you can take it for quick jaunts to the grocery or down to the lake.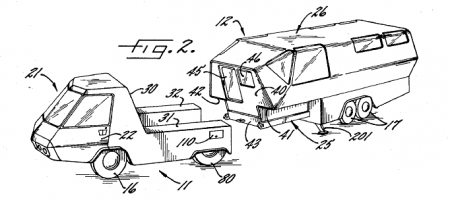 The best part is that you can move from the drive train to the living areas while the vehicle is in motion, just like a motorhome. You can access the the living areas through this door shown on the diagrams.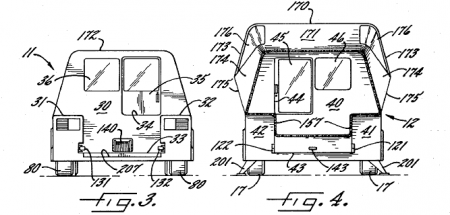 The floor plan shows a pretty interesting living space with a large table right behind the driver's and passenger's seat. Then there is a kitchen and finally a room with a bed and bathroom at the rear of the vehicle.

The driving area seats only two people, so if you had kids, they would have to be in the back area.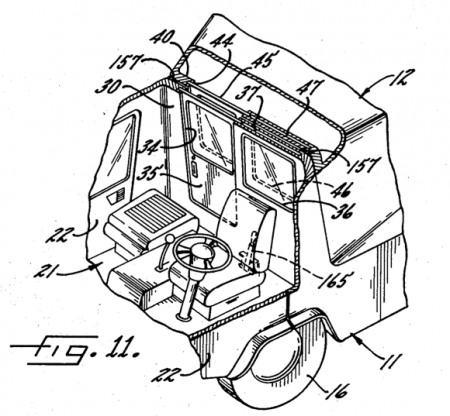 This patent was originally filed in 1971 and was issued in 1973, but it never came to be. It was a strange combination of a motorhome and a travel trailer with a passageway between them to allow for more relaxed travel.
You can download the entire patent here: