When I posted an entry about the very awesome Quantum 5 Contempo Fifth Wheel Fiberglass Trailers, Mike immediately noticed one of the photos:
I was the original owner of the Quantum fifth wheel that you show at the top of this article. I know it was my rig because of the awning and sewer hose on the rear and the metal band where the seam is on the side of the rig. These were not original and I added them over the twenty two and a half years we owned the rig. We purchased it in 1980 in Fullerton, CA and originally used a 1978 Toyota SR5 pick up to tow it. I traded up to a 1984 Chevy El Camino when it was new and towed it with that veh. until 2002 when I traded it in on a new motor home. WOW, to see that someone else got the rig and enjoyed it after we did is just great! It was a neat small aerodynamic camper that my wife and I used with great joy for many years. It is good to see they are still appreciated.
I was so excited that one of the original owners was willing to talk about his beloved old trailer, so I asked him to send photos and he DID!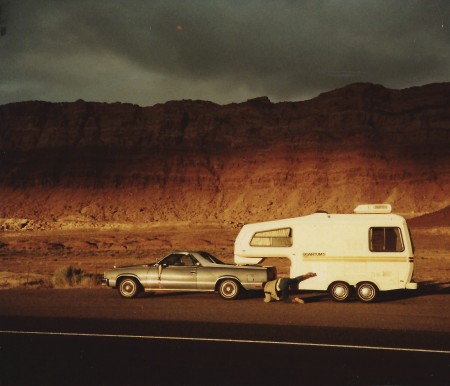 There is so much awesome retro goodness in this photo that I'm stymied. From the El Camino to the stunning orange sands of the American Southwest, I am speechless! Luckily, Mike was willing to tell me all about it.
Laura,

I have attached three photos of our old rig and am looking for the original flyer/sales advertisement from the company. Contempo originally made van interiors, I believe the trailers were constructed in Pomona/Ontario area of southern California. They were trying to get in to the RV market and had there been more sizes of trailers been available I think they might have succeeded. Our fifth wheel had a four burner stove, a Dometic gas/electric fridge (about half size, I don't remember cubic feet but it did have a small freezer in it) and a am/fm cassette radio. The rig was self contained and the bathroom toilet was in the one piece shower that also contained a small built in sink. I am six feet two inches tall and didn't have to stoop anywhere in the rig. The queen size bed was ample but I couldn't quite stretch out. Above the bed were two sunroofs that opened. They were great in southern California as there weren't misquitoes in the deserts. Because of the sloped nose and angled upper corners on the fifth wheel she was a real pleasure to tow. Our first three years were towing with a Toyota SR5 pick up. We visited our families in Minnesota and Kentucky each summer so the minimum travel was five thousand miles each annual vacation. When we got the new 1984 Chevy El Camino we would make the roughly two thousand mile trip to our family in three days and then return to our home in another three days. That meant a three week trip was two weeks with family and then a day to get organized afterwards to get back to work…

The Quantum was designed to be towed by a mini or a Ford Ranger sized, pickup. A full size pickup was too high for the rear bed to be backed under and the camper hooked up. To make a full size work without major modification the camper would have been tilted horribly when hooked up-it would not have worked.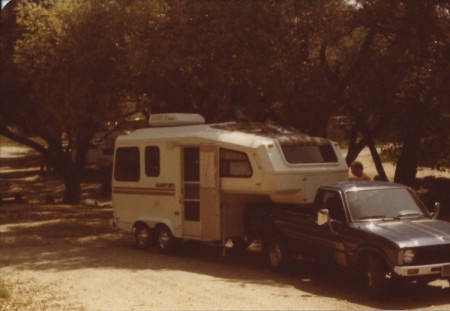 Over the twenty-two and a half years we enjoyed the Quantum I removed and worked on everything in it except the fridge. I had to replace the propane heater, and the fresh water tank over the years but mostly just had to keep everything clean and maintained. Of course we changed out the radio cassette player as soon as CDs were the big thing. I added the awning and sewer hose pipe on the rear in later years. We never had a television in it-I read and the wife loves to lay in the sun so that was never a problem.

Though we never had kids we often took friends with us and the camper handled it just fine. We could cook, eat, and sleep two couples comfortably. My wife and I got to the point we could dry camp in the desert for ten days without needing to dump or take on water. We didn't do it often but it was nice to know we could if we had to. Other than normal maintenance on the axels and electric brakes we had to just put new tires on every five years or so.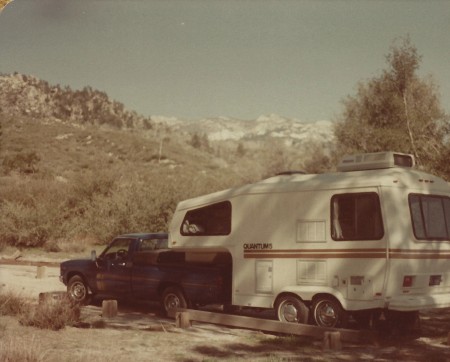 We retired and loved camping so much that we decided to get a bigger camper and enjoy it. The Quantum was 'long in the tooth' and the El Camino had 140,000 miles on it so it would need to be replaced too. We purchased a thirty-four foot Monaco Knight diesel pusher and after the private party sale of the Quantum fell through the RV dealership made us an offer on the Quantum we couldn't refuse. When we traded the Quantum in it was fully functional and ready to be enjoyed. Due to the age we assumed it would probably be junked. We were so excited to have the Knight but everyone who knew us asked about the disposition of the Quantum.

We enjoy our Knight and still own it-as with the Quantum the stories it 'contains' make it all the more special. However, when I think back on our time in California and the fun we had the old Quantum always comes to mind. Now you can understand why I occasionally get on the internet and enter 'Contempo Quantum 5'. The shock at seeing our old rig was a much needed boost-we weren't able to take the Knight and return to California this winter to visit family and friends and so have been a little down. To see the rear awning, sewer hose holder on the rear, and the fifth wheel pin brace my brother in law made me to brace the bed when unhooked was a shock-a most pleasant shock.

Now you know the story behind the first twenty two and a half years of the Quantum in the photo. Can you tell me anything about it now????
I feel bad, because I got the picture of his old rig from the Fiberglass RV Forums, but I think he's right. It looks like the same trailer.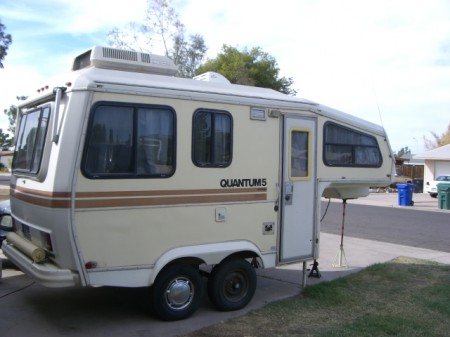 Thank you, Mike, for graciously sharing your stories and photos of your old Contempo Quantum 5 Fifth Wheel!