Last January, on the way to Quartzsite, we stayed a night or two in Las Vegas. The typical temperature at that time of the year is about fifty degrees during the day and 35 degrees at night. We knew it was going to be a little cold, so we were prepared with a couple of electric heaters.
We had NO idea that we would be staying there on the coldest nights Las Vegas has seen for YEARS. It was a HARD freeze at 28 degrees, taking everyone in that city by surprise. Every one of the huge motorcoaches, in the RV resort where we stayed, had frozen water hoses with no water. And this fountain stayed frozen solid all day and night.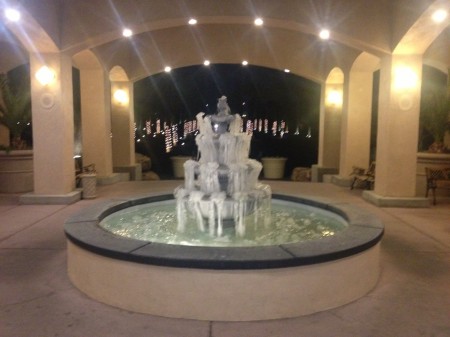 Fortunately, our two little electric heaters kept us warm in our little tent trailer, but it was substantially colder on the bunk ends than it was in the middle of the camper. Whenever I was awoken by the cold that night, I tried to think of ways our bunk ends could be warmer.
Try as I might, in my cold-addled and sleepy stupor, I didn't think of this ingenious origami solution to the problem. Here is the Apache Hard-Sided Popup Camper and how its bunk ends are put together.
The roof folds down and the lifts up like this: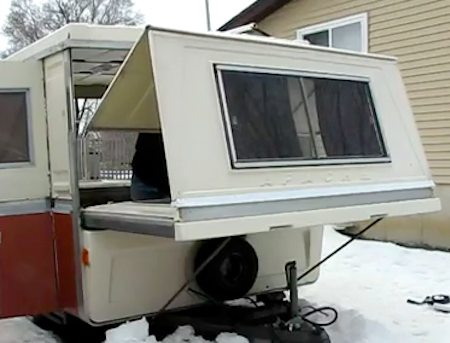 Then the sides pop in (rather awkwardly):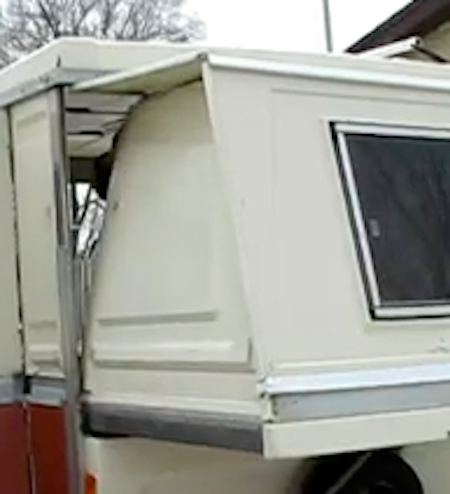 If I were to turn my popup camper into a hard-sided camper like an Apache, would it be warmer? What is the insulation difference between plywood and tent canvas. I would think it would be warmer, but it also would be a lot heavier. The Apache seems to have plastic or maybe thin aluminum sides. Are they any warmer than tent material? I have no idea.
In the end, we were able to stay warm enough that night in our trailer, despite the hard freeze. I might fantasize about modifying my popup camper, but it was warm enough to camp in winter temperatures, so I guess it's not necessary to hack apart my beloved little Jayco just to be a couple of degrees warmer.