When I posted an entry about the very awesome Quantum 5 Contempo Fifth Wheel Fiberglass Trailers, Mike immediately noticed one of the photos:
I was the original owner of the Quantum fifth wheel that you show at the top of this article. I know it was my rig because of the awning and sewer hose on the rear and the metal band where the seam is on the side of the rig. These were not original and I added them over the twenty two and a half years we owned the rig. We purchased it in 1980 in Fullerton, CA and originally used a 1978 Toyota SR5 pick up to tow it. I traded up to a 1984 Chevy El Camino when it was new and towed it with that veh. until 2002 when I traded it in on a new motor home. WOW, to see that someone else got the rig and enjoyed it after we did is just great! It was a neat small aerodynamic camper that my wife and I used with great joy for many years. It is good to see they are still appreciated.
I was so excited that one of the original owners was willing to talk about his beloved old trailer, so I asked him to send photos and he DID!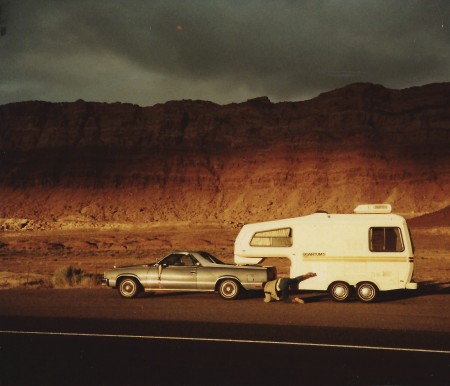 There is so much awesome retro goodness in this photo that I'm stymied. From the El Camino to the stunning orange sands of the American Southwest, I am speechless! Luckily, Mike was willing to tell me all about it. (Continue Reading…)