I really love this motivational poster I saw on Facebook a while back: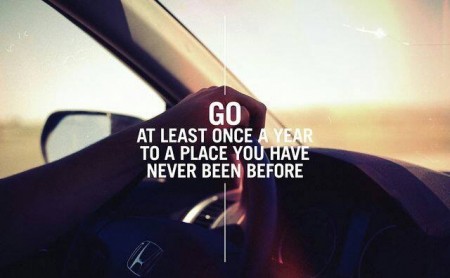 It reads:
Go at least once a year to a place you have never been before.
This is an argument that I have every year with Mike. He always wants to go to Yellowstone, which we have been to almost every year for a decade. I want to try new national parks, like Yosemite. This year, we didn't go on a big trip. Our biggest trip was to Lagoon Amusement Park up north. It was a really fun vacation and we got to see our friends and family while we were there, so no regrets.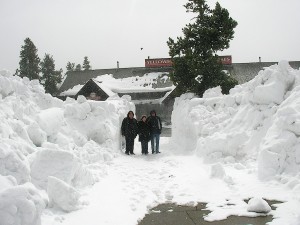 Still, the argument rages on. Yellowstone or Yosemite. Mike argues that Yellowstone is different EVERY time we go there. I can hardly describe the difference of Mammoth Hot Springs now versus when we saw it that first time together. I wish I had photos of Orange Spring Mound from that first trip because it has LITERALLY taken over the road and they have had to make a new road around its massive orangeness. Yellowstone is truly different every time we've visited from the year with the ten foot snow drifts to the year with the bear with a porcupine quill in its paw. We have never had a repeat experience.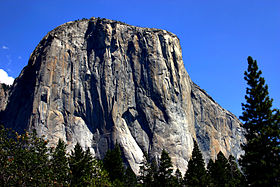 But I have never seen Yosemite. I would feel like an idiot if I never got to see the mountains and trees that so inspired John Muir in his writing and activism. I would regret never seeing El Capitan in person when it was the focus on so many of Ansel Adams' photographs. How can I keep visiting Yellowstone over and over when Yosemite is there, waiting for me to visit?
Then again, Ansel Adams spent his whole life visiting Yosemite over and over. Georgia O'Keefe loved Taos so much she moved down there. Additionally, every time I visit a place, it looks different to me because I AM DIFFERENT. What was boring to me as a child is gorgeous to me as an adult. What was interesting to me before may be gone, but has been replaced with something just as strange and captivating. When our national parks are different every time we visit them, it doesn't matter which one we visit as long as we get out.
If I were to change that poster on the top, I would make it MUCH more simple. Instead of it saying, "Go at least once a year to a place you have never been before," it was only say, "GO."