I got my toiletry bag from Target over five years ago. It doesn't really matter which brand you get as long as the bag suits your needs. For me, I needed something that would hold all of my essentials in a size that was smaller than my old Caboodles box. For you, a Caboodles box might be perfect or even a tackle box. The important thing is that the toiletry bag is always full and ready to go. Last April, I included a packing list to help make your packing experience easier:
Many things on that list are toiletries. Now, I have a toiletry bag that holds EVERYTHING I will need like shampoo, toothbrushes and contact lens solution. Anything that I use in my daily life is in that bag. I also include some first aid items like bandages and triple anti-biotic. I even include some drugs like pain killers and anti-nausea medicines. Now, if I have to go out of town, all I need to do is pack my clothes and grab the toiletry bag. It has made packing for a trip much easier.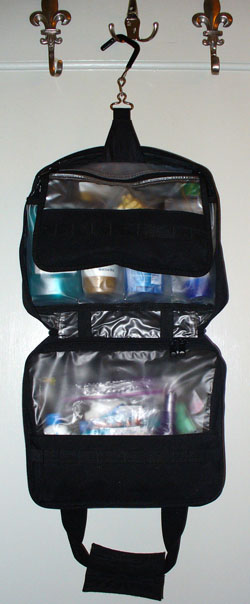 Here is a picture of my toiletry bag and a complete list of its contents.
Contact lenses: cleaner, saline solution, case
Facial cleanser (travel size YOUR way)
Multi-vitamin pills
Calcium pills
Perfume
Hair bands
Mouthwash
Lotion
Anti-perspirant
Shampoo (in a Sprayco Soft Touch Dispenser)
Conditioner (in a Sprayco Soft Touch Dispenser)
Hairspray
Hair brush
Feminine Hygiene Products: tampons, pantyliners and napkins
Toothpaste
Dental floss
Razor and blades
Pain relievers: ibuprofen, Excedrin, acetaminophen, and aspirin
Allergy medications: guaifenesin, psuedoephedrine, diphenhydramine, eye drops
Stomach medications: Mylanta, Alka Seltzer, Dramamine
First aid supplies: bandages, triple antibiotic, Benadryl cream, sunscreen, lip balm
Fingernail clippers, tweezers and fingernail file
Condoms and lubricant
Bar of soap (travel size)
How did I get so many things in such a small case? The travel size bottles really help, but I also have another secret. Tune in on Monday to find out!