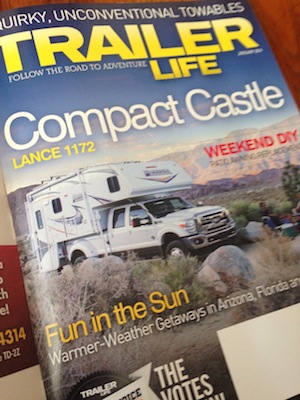 Just when I was about to let my subscription to Trailer Life Magazine expire, they FINALLY do an article about small trailers that is interesting. If you haven't picked it up, the January 2014 issue is actually worth buying this time.
Not only did they do an article on a truck camper for their cover photo, they did an entire article about tiny trailers AND one about restoring retro trailers. It's like they wrote a magazine just for me.
The Unique Trailers article didn't showcase anything I hadn't seen before. They covered the following tiny trailers:
Livin' Lite Quicksilver
SylvanSport Go
They could have written full articles about each of these trailers (like I have), but at least they acknowledged that the world of camping is more diverse than the GIGANTIC fifth wheel trailers they usually highlight.
Good job, Trailer Life!