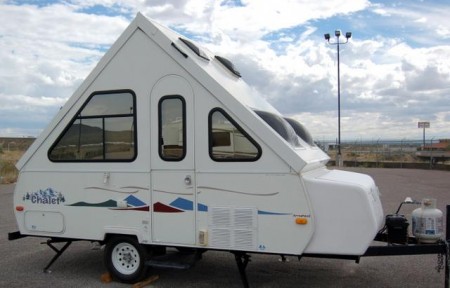 If you like the idea of a hard-sided travel trailer, but want to be able to store your camper in a garage, an A-Frame camper might be your best bet. They fold up flat like a tent trailer and lift up to a cute little cabin-style camper.
These kind of trailers are available from the following manufacturers:
Cost
Finding A-Frame campers used is almost impossible. When I do find them used, they aren't amazing deals like I find with a tent trailer. They usually range in price from $6,000 to $25,000, which is almost as much as they cost new. They usually settle in the range of $10,000 to $15,000 for used.
The benefit of the A-Frame trailers is that you can tow them with smaller cars than travel trailers. We couldn't quite tow one with our Prius, but most mini-vans and other six cylinder vehicles could handle them.
Storage
Just like a tent trailer, you can roll it into the garage for storage. Depending on the height, you might even be able to deploy it in the garage, like a tent trailer. If you don't have space in your garage or on your property, then you'll have to pay to store it at a facility for about $65-$100.
Mileage
Towing an A-Frame will reduce your gas mileage by about five miles a gallon. skipnchar at RV.net Open Roads Forum said:
When I was towing a 2500 lb. pop up trailer with my Mazda B4000 I got 15 or 16 MPG towing and 19 or 20 running empty. Don't know if this helps much or not but that's about as good as I can do I would expect you'd find something similar (losing something like four or five MPG towing depending on the actual weight.
Capacity
A-Frame trailers sleep far less people than comparably sized tent trailers. Most of them only sleep two people. Some of the floorplans can sleep four people if you fold down the dinette. If you want to sleep two adults and a child, but need some place for one of the adults to sit while the other and child sleep, then you are out of luck.
Comfort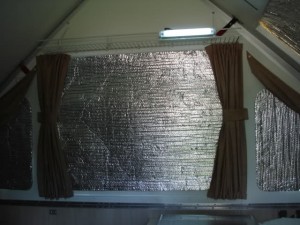 The beauty of the A-Frame trailers is that almost all of them come with propane heat and A/C. The hard-sided walls keep in the heat WAY better than a tent trailer. Some people add Reflectix on the windows to insulate against the sun in the hot weather. I suspect that also works well in the winter to keep the heat escaping out the windows.
Effort
Unlike a tent trailer, their setup is hilariously easy. Here is a quick video showing you how they work.
Some of them are more elaborate with dormers, so they take slightly more time to set up, but on the whole, you can get your A-Frame camper up and ready within five minutes.
Restrooms
A-Frame trailer bathrooms tend to be just like tent trailer bathrooms, where the toilet is out in the open unless you pull the paper-thin curtain for what acts as privacy. The only exception is Chalet, who has an origami bathroom that folds up nicely with a real door. Here is a video showing the setup of that trailer.
The Chalet XL 1938 is the only A-Frame trailer with a full sized bathroom with a real door. Here's the floor plan.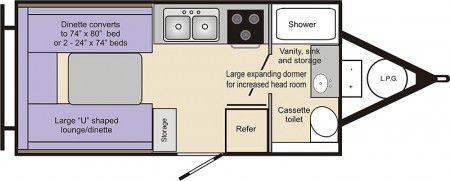 Here's a video showing one that was for sale. She has some trouble with her camera, so you'll have to turn your head to the side to see parts of it, but it gives you a good idea.
Safety
Towing an A-Frame trailer is probably just as easy as towing a tent trailer. It is UNAFFECTED by strong winds and you can see over it out the rear window. Despite being slightly heavier than tent trailers, I suspect they are just as safe to tow.
Campsite Availability
Just like tent trailers, A-Frame trailers can fit into almost any campsite with no trouble. And I doubt you would run into any of the elitism that tent trailers experience at campgrounds because they are so unique that campgrounds will want to put them in the premium spots.
Weirdness
A-Frame campers are so new and rare, I suspect you'd have just as many people wanting to see it as I did with the teardrop camper. Additionally, I'd bet that setting up and breaking camp would become a source of entertainment to anyone in the campground just because everyone would want to see how they worked.
The marketing for A-Liner says, "It takes 30 seconds to set up and 30 minutes to answer all the questions from the other campers." If you like this sort of attention, then an A-Frame is for you. If not, having one would be an embarrassing trip every time you camped.
The Walmart Factor
Even though they have to pop-up, I bet you would have no trouble at Walmart with an A-Frame. They are hard-sided, so I suspect it would be easy to sleep. The only problem I could see is with the units that don't have restrooms. You would have to stay at a 24 Hour Walmart or hold your bladder until they open up in the morning.
Conclusion
I've never owned an A-Frame camper, so my viewpoint might be a little off on these RVs. Their sleeping capacity is slightly smaller than I'd like and finding them used is rather difficult. I'd be interested in using one for a few months to see how that would change my viewpoint, but at this juncture, I don't think an A-Frame is right for us.
Here are links to the other entries in this series: