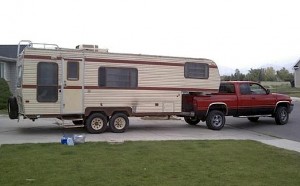 Fifth-wheel trailers look like travel trailers, but they have a large gooseneck at the front that attaches to a huge hitch on the bed of a pickup.
Cost
Used fifth-wheels can be found in the classifieds for as low at $800, but a good one will probably cost you about $2,000. New, they can go for as much as $50,000, so they can be very pricey if you want a brand new one.
Another cost you have to plan for is a pickup. You MUST have a pickup to tow a fifth-wheel. An SUV with a high towing capacity won't work for you because you need to have the pickup bed to attach the trailer to your vehicle. If you already own a pickup and plan to continue owning one, then you're set, but if you prefer any other car, you cannot tow a fifth-wheel with it.
Storage
Just like the travel trailers, a fifth-wheel trailers can't just be easily stored in your garage. They are very high and won't fit under a garage door. They won't even fit under a drive-thru roof, as shown in this video (BTW the driver and his son escaped unscathed).
You'll have to find a huge spot on your property to store it out in the elements or store it at an RV storage facility at $100-$120 a month.
Mileage
My mom owns a fifth-wheel and a Toyota diesel truck. The truck gets 18 mpg when it's not towing and 12 mpg when it is. You can assume it will take about 6-7 miles per gallon off your usual mpg.
Capacity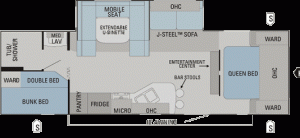 As huge as fifth-wheel trailers are, they don't seem to sleep much more than tent trailers. My eight-foot tent trailer can sleep six, whereas my mom's fifth-wheel can sleep six people. The difference is that there is a lot more room to move about in her trailer than there is in mine. Considering that their trailer is THIRTY feet long, I'm surprised that there isn't sleeping capacity for twenty people in that thing. If fifth-wheel manufacturers used their square footage as efficiently as truck camper and tent trailer manufacturers, they WOULD be able to sleep twenty per trailer.
Comfort
Fifth-wheel trailers are the epitome of comfort. Not only is there heat and A/C. There are refrigerators, microwaves and a plethora of other amenities. If you plan on living in your RV full-time or even half the year, a tent trailer would be a hardship. A fifth-wheel, on the other hand, would be like living at home.
Effort
Every time my mom and Reed go camping with us, I'm surprised at how long it takes them to set up. They don't have to pull out bunk ends or raise the roof, but it usually takes them just as long to get their fifth-wheel into its spot, leveled and ready to go. I don't know if that is added complexity on my mom's part or if fifth-wheels are REALLY that time consuming to get into a campsite. Just watching this video from RV101 about how to hitch up a fifth-wheel makes me break out in a cold sweat.
Restrooms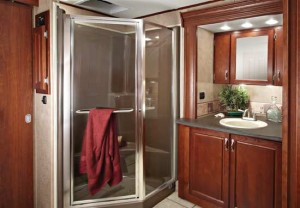 Yes, yes, a thousand times, yes! This is one place where fifth-wheel trailers really shine. I've seen the most beautiful bathrooms in fifth-wheel trailers that make the bathroom in my own house blush with inadequacy.
Safety
Fifth-wheel trailers are supposed to be safer to tow than bumper pull travel trailers, but they are BOTH very susceptible to wind. Every year in Utah, we have several fifth-wheels overturned on I-15 because of heavy winds. Considering that I've driven in wind storms such as these with my tent trailer and had NO problem, I'm very reluctant to trade it in for a trailer that is harder to tow under those conditions.
Additionally, the law doesn't require RV owners to take any special classes to learn how to drive their monstrous vehicles. If you want to drive a fifth-wheel, you basically have to teach yourself how to drive a vehicle that's as big as an 18 Wheeler. If that doesn't scare you, then you're a far better driver than I am.
Campsite Availability
In the national and state parks, you could run into troubles with some campsites not being long enough for your fifth-wheel. Many of them list their limitations, for example, 25 foot, on their websites, but sometimes you might show up at a campground, hoping you could stay there and find that your 30 foot fifth-wheel just doesn't fit.
Additionally, a campsite might be long enough to fit your huge fifth-wheel, but getting it into its spot might be a geometrical nightmare. Trying to make your long trailer fit into your campsite might be possible, but only if you are a master driver.
At the luxury RV resorts, however, you won't have that kind of problem. The resorts that specialize in pull-through sites and have beautiful landscaping will gladly welcome your fifth-wheel and maybe even put you in their lovely premium sites just because your camper is that nice.
Weirdness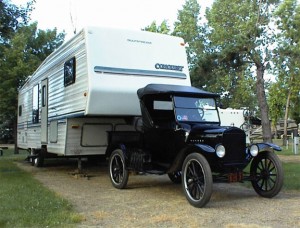 No one will think your fifth-wheel is weird. They won't think it's cool or come over and ask what it looks like inside. Since they are so commonplace, you will be camping in obscurity every time. You will have to make MAJOR modifications to your fifth-wheel or tow it with a strange tow vehicle to get any attention.
The Walmart Factor
When Walmart offered to let campers stay overnight in their parking lots, fifth-wheels are the exact campers they had in mind. The only time a fifth-wheel trailer has been turned away is when the Walmart doesn't allow overnight camping at all.
Conclusion
I've never owned a fifth-wheel trailer, so my viewpoint might be a little off on these RVs. They may be harder to level or easier to hitch up than I imagined. I'd be interested in using one for a few months to see how that would change my viewpoint, but at this time, I don't have a vehicle to tow one nor the space to store it.
Here are links to the other entries in this series: