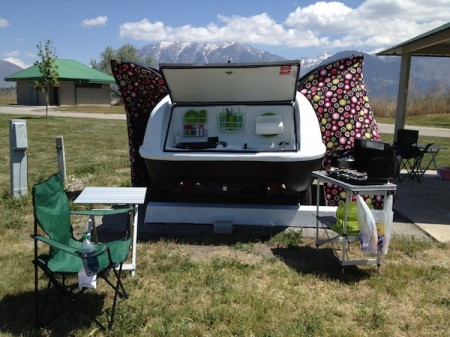 The next option available is teardrop camping. Mike and I owned a teardrop camper for a scant six months, but we took it on a cross-country trip that spanned ten states.
Cost
A teardrop camper can be towed by ANY car, even a Prius, so you don't need to spend a ton of money on a huge tow vehicle. We found our teardrop trailer used for $1200, but good deals like that are few and far between. There are less teardrop trailers on the road, so there are, understandably, less teardrop trailers on the used market.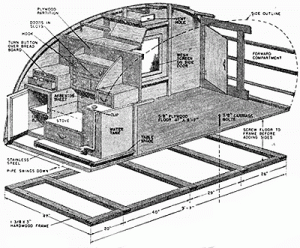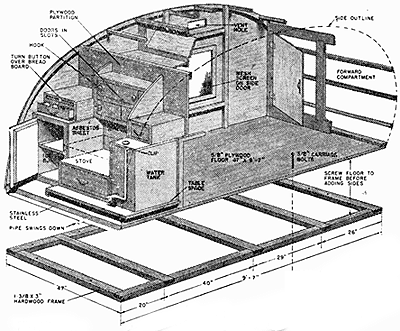 Unless you can build a teardrop yourself, they are paradoxically expensive. When I can find a good used travel trailer for about $1,200 in my local classifieds, it is crazy to me that some new teardrops cost upwards of $8,000. They are SMALLER than a travel trailer. Shouldn't they cost LESS?!
Storage
The teardrop is so small that it will fit in your garage in one of the spots. If you have an extra spot in your garage or on your property, then storing a teardrop won't be a problem for you or cost you extra money. Otherwise, it can be stored at an RV storage facility, but it's so small, you could negotiate a smaller fee than the $65 – $100 a month that RV owners usually pay for storage.
Mileage
Towing a teardrop reduced our gas mileage by only five miles a gallon. We were driving a Prius, so we ended up averaging 29 mpg on our Epic Journey.
Capacity
If you are a couple or out on your own, a teardrop is ideal, but the minute you add even one ten year old child, the sleeping chamber becomes a claustrophobic hell instead of a cozy den. For some, even the thought of sleeping in a tiny teardrop trailer is too cramped, but that was never a problem for us as long as Mike was able to sit up straight in the bed.
Comfort
Camping in the teardrop was ideal for us. It was the first time that I had been able to sleep the night through while camping without being interrupted by strange noises or by freezing cold. We camped in that teardrop in 38 degree weather with a 20 degree windchill (making it feel like it was only 18 degrees out there), and we couldn't feel the cold at all. If we touched the outer walls, it felt cold, but as long as we stayed away from the walls, we were toasty warm. It didn't fair quite as well in the 112 degree weather of Southern Utah, however. Without an A/C unit, it's impossible to escape that kind of heat.
If the weather turns bad, however, you are trapped in a small sleeping cabin, with very little room to move about. There is nowhere to change clothes, unless you create a tent-like area outside (like I did), so you are required to change in the bathrooms.
Effort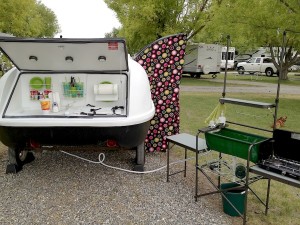 Setting up the teardrop was INSANELY easy. We would drive up, level it out, chock the tires and take the folding chairs off the bed. DONE! The camp kitchen was out back with nothing to set up but a small table for the camp stove.
The strange thing is that the teardrop was so easy to set up that I started doing things to make it more complicated. Even though my teardrop had a kitchen on the back, I brought the camp kitchen that we used to use when we went tent camping on some trips because then I could use the water hookups at the campsite. This gave us a working faucet and sink, but it also complicated things more than they needed to be. The fancy teardrop trailers have sinks built into the galley, so I'm sure that one feature would be simplified with a more expensive teardrop.
Restrooms
There are no bathrooms in the teardrop (of course), so you have to camp at a facility that has some or create your own porta-potty tent yourself. I talked about those options on these two posts:
Safety
The teardrop was VERY easy to tow and didn't pull on our car at all in good weather. The height of it DID block our back window, so there was that limitation, but other than that, it was almost like driving a car without a trailer attached at all.
The one time we had troubles with the teardrop was in heavy winds in Kansas. There was a wind advisory out that day, so it was an extreme example, but we could definitely feel the teardrop pulling in the wind. Of course, winds like that knock over trucks pulling fifth wheels, so the teardrop actually handled it very well.
Campsite Availability
Nothing beats a teardrop for campsite availability. It can fit into the smallest of the campsites and not one campground refused access to us. We were allowed the premium sites with water, electricity and even sewer (not that we could use it). Even campsites that were awkwardly situated weren't a problem for us. We were able to just roll our little teardrop into place by hand. Plus, snooty campgrounds like to have unique vehicles like teardrop trailers on their property, so they will offer you premium spots just so other people will see you and think they are cool.
Weirdness
At first, the weirdness factor was a benefit to me. People would come up to us and ask us if we were sleeping in that tiny thing and I was delighted to show it off. After our Epic Journey, however, I had had ENOUGH. After two weeks of explaining the concept, I was DONE with talking to people about my teardrop. I just wanted people to leave me alone. If you are outgoing and love to talk to strangers, then the teardrop is perfect for you. If, however, you just want to go camping and relax in peace, a teardrop will be a definite negative.
The Walmart Factor
Mike and I never tried dry camping at a Walmart in our teardrop trailer. You'd probably be fine as long as you are able to sleep in your teardrop without unhitching, because most Walmart managers insist that you don't unhitch your trailer from your vehicle if you're dry camping on their property. Of course, you wouldn't have a bathroom other than the one at Walmart and you couldn't set up your chairs because that's another thing that's not allowed. If, however, all you needed to do was get a few hours of sleep, then the teardrop would probably be fine in a Walmart parking lot.
Conclusion
I actually miss our teardrop trailer and every time I see it in my sister's garage or they join us for camping, I get a little nostalgic for it.
Here are links to the other entries in this series: