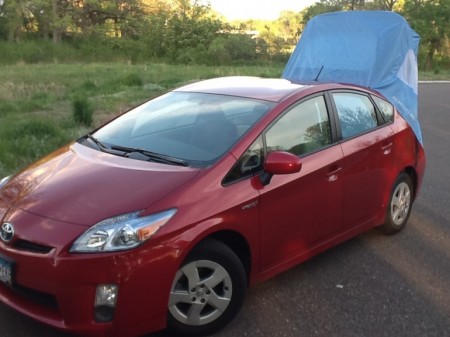 Whether you pack a tent in your car or you actually SLEEP in your vehicle, car camping is the MOST affordable.
Cost
Car camping is cheap in gas mileage, storage and cost of gear. The most expensive tent I ever bought was $400, which is still $100 cheaper than any trailer I've bought.
Storage
Rather than filling up your garage, sitting outside in the rain, or costing you a monthly fee, a tent and other camping gear can be stored in a spare closet. You shouldn't have to pay for separate storage for a tent unless you live in the smallest of apartments.
Mileage
Extra tents and gear have absolutely NO impact on your gas mileage.
Capacity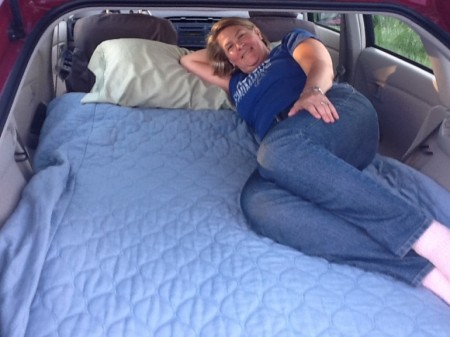 If you want to sleep IN your car, then you're limited to two or three very cozy people. If you're willing to sleep in tents, then you can accommodate any size of family. Your limitation is based on how many people you can fit into your vehicle.
Comfort
Camping in a tent can be COLD! Even if you have a four season tent and four season sleeping bags, you are limited to temperatures no lower than 40 degrees. Any lower and you will be truly roughing it. Additionally, it can be HOT! During the day, you will swelter if the temperature is any higher than 95 degrees. Battery powered fans and other DIY kludges can extend your camping temperatures down to 35 degrees and up to 105 degrees. For the most part, your camping time will be restricted to the best weather days if you want true comfort.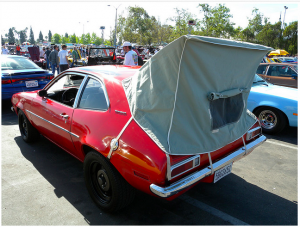 If you are sleeping IN your car, then you can extend your camping season, but then you have no place to change clothes. Additionally, it can be surprisingly uncomfortable to sleep in your car, even with an air mattress. That car roof gets mighty close to your face when you have an air mattress thick enough to make sleeping comfortable.
Effort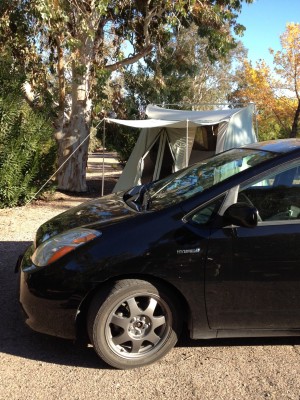 Putting up a tent, the cots, the air mattresses, unrolling the sleeping bags and setting up the camp kitchen is a time-consuming effort. It only took us about 40-50 minutes to set up or break camp each time, but on a long road trip, that adds up to an hour and a half of hard labor each day.
Restrooms
There are no bathrooms in your car or a tent (of course), so you have to camp at a facility that has some or create your own porta-potty tent yourself. I've talked about those options on these two posts:
Safety
Driving a car full of camping equipment only affects the drivability of a car if you fill up the back until you can't see out the rear window.
Campsite Availability
You can camp at any state or national state park, but many RV campgrounds won't let you stay in their sites with electricity. When it was cold and we wanted to have an electric heater running in our tent, it was pretty near impossible to get a campground to let us stay at a site with electricity. We were willing to pay more, but they just wouldn't let us put a tent up on their premium sites. Additionally, we couldn't stay at any campground that was all cement or gravel because we couldn't stake down our tent. We needed a 10'X10′ swatch of land to get our tent up (that wasn't the case for our Hobitat, only our Springbar tent).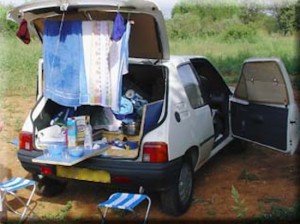 If you are camping IN your car, that is looked upon with wary by some camp hosts. I've actually seen a woman at a national park tell a man he had to leave his campsite after his first evening because he was "just sleeping" in his car.
Weirdness
The only time I ever had a stranger talk to me about my tent was on an extremely cold morning after and even colder night. He said, "You musta froze last night." We were pretty much ignored when we went tent camping.
The Walmart Factor
If you asked permission to put up a tent on the Walmart parking lot, I'm pretty sure the manager would laugh you right out of the store. If, however, you asked if it was alright if you slept in your car, you might be allowed or might also be looked at like you're a homeless wastrel. Of course, there is always the option of stealth camping if you're sleeping in your car.
Conclusion
In the end, the cold did us in. It's particularly frigid in the Utah mountains, even in the summer, so we ended up leaving the car camping behind.
Here are links to the other entries in this series: