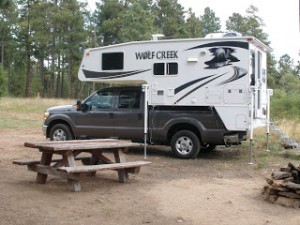 If you want the luxury of a bathroom or to be able to sleep while your partner drives, a truck camper might be your next option.
Cost
You can get a used truck camper for as little as $300 in my local classifieds. That doesn't say it's a good camper, but it does go to show how inexpensively you can get started, as long as you have a truck. While a cheap and good truck camper may be available for less than $2000, the truck to haul it with is NOT cheap. After looking at the current truck campers, they appear to need the biggest trucks in order to carry them. Additionally, the new campers are NOT cheap. They start out at about $18,000 and go up in cost from there. At that price, and considering you need a truck to haul them, you might as well get a travel trailer or a fifth wheel.
Storage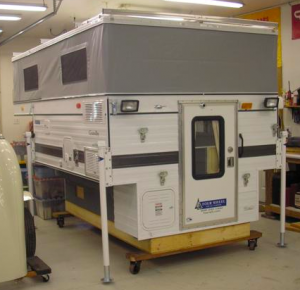 The beauty of a truck camper is that you can store it in your garage in a spot the size of one parking spot (or even smaller). You will need to make or buy a truck camper dolly (pictured to the right), in order to move it into the garage, since the camper would be WAY too high to fit under a normal garage door. If you don't have any empty spots in your garage or on your property, you would have to pay for storage, but just like the teardrop, you might be able to negotiate a smaller fee because truck campers are so small.
Mileage
The best mileage you'll be able to get out of one of those trucks is about 18 mpg with a diesel truck. That will probably fall to about 12 mpg with the camper on.
Capacity
Truck campers sleep less people than a travel trailer or tent trailer, but more than you might think. They appear to only have a one bed and a dinette, but many of them have an overhead bunk that you can fold down to sleep one more. They ARE small, however, so if you have a big family, you'll be hard pressed to sleep them all in the truck camper.
Comfort
Just like the teardrop, a truck camper is hard sided and relatively small in size, so it's easy to heat and keep warm. Some of them have propane heaters and even A/C units, so you can keep comfortable, no matter what the weather.
Additionally, there is an added comfort while you're driving. Your children could play in the camper in the back or your spouse could sleep in the bed over the cab. Any of the passengers can use the bathroom while you continue to drive, making stops less frequent. Just like a motorhome, you can have a little freedom of movement while you're on the road.
Effort
If you are on a long road trip, a truck camper is as good as a motorhome for ease in setup and breakdown. If you are staying for a long time in one spot, however, it is a rather involved process to take the camper off the pickup and setup at a site so you can use your truck for running errands or heading to the lake. If you're unfamiliar with it, here is a fast-forwarded video showing the process:
There is a camper jack system that looks like it's easier called Stable Lift. This is a little video showing how it works.
This jack systems costs an extra $2500 – $3000 and requires that you bring your camper to them for installation, but it looks like it makes camping with a truck camper much easier.
In the end, the effort to set up and break down a truck camper looks about as difficult as putting up a tent, so the truck camper might be out of the picture if you like to camp for long periods of time in one spot.
Restrooms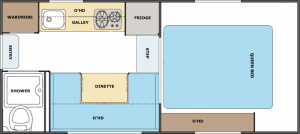 The older units don't tend to have bathrooms, but the new ones have bathrooms and showers, so you don't have to take a walk in the cold in the night.
Safety
Because of their high profile, truck campers are top heavy and it's a little easier for them to flop over. You also can't see out your rear view mirror and they usually don't fit under drive-thrus.
Campsite Availability
Truck campers are so small that they can fit into any campsite, no matter how awkward. I don't know if there is a prejudice against them like tent trailers, but they are very maneuverable.
Weirdness
I don't know exactly how much attention a truck camper would attract. They certainly don't have any of the cuteness that a teardrop or a canned ham would have, so I suspect you'd be safe to camp in obscurity.
The Walmart Factor
Because they are fully self-contained, truck campers would be able to dry camp at a Walmart. I've seen them several times at our local store for overnight stays.
Conclusion
I've never owned a truck camper, so my viewpoint might be a little off on these RVs. They may be harder to drive or easier to set up than I imagined. I'd be interested in using one for a few months to see how that would change my viewpoint, but at this juncture, I don't have a pickup to carry one.
Here are links to the other entries in this series: