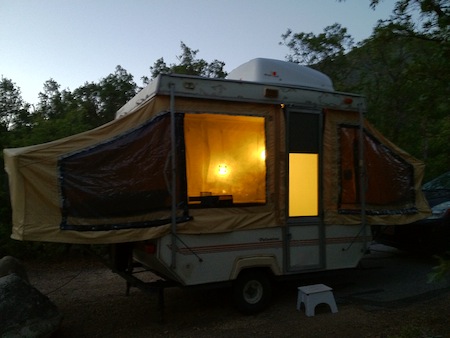 If a teardrop is too small for you, then you should look at a tent trailer next.
Cost
I found our first tent trailer for only $500. It only lasted us three months, but we camped for a total of two weeks in the camper, so it easily cost less than renting a similar trailer would have cost. Our current camper cost us $1000 and was a definite improvement. Buying a tent trailer new reaches the $10,000 range, but even that is less expensive than new travel trailers. Tent trailers can be towed by almost any car, so you don't need to buy a new tow vehicle.
Storage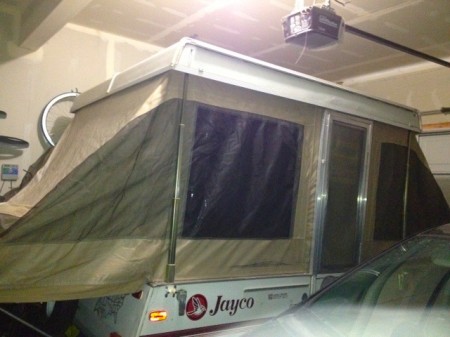 Tent trailers are small enough to roll into a garage in one parking space. I wrote about this before here:
If you don't have an extra spot in your garage or on your property, then you have to store it in a facility. The cost for storage at those places ranges from $65 – $100 a month.
Mileage
We have chosen tent trailers that are VERY light, with no amenities like onboard water or bathrooms, so we have been able to tow them with the Prius. It only lowered our gas mileage by five miles per gallon. On our latest journey to Quartzsite and back, we averaged 29 mpg with the Prius.
Capacity
Tent trailers beat the teardrop, hands down. You can EASILY sleep six people in our tiny eight foot box tent camper. Some of the larger ones even sleep 7-8 people. If you have a large family, it may be that a tent trailer is your only option.
Comfort
I thought a tent camper would be as cold as a tent, which was the reason we bought the teardrop trailer, but it is warmer. I think part of the reason is the solid roof. It is definitely warmer in the living spaces than on the bunk ends. Additionally, the tent material is WAY thicker than the canvas of my Springbar tent. It appears to be covered with some sort of vinyl coating on the outside and that makes considerable improvements in the cold. There is also plenty of headroom to stand up and couches to sit on when it rains outside.
While a tent trailer is warmer than a tent, it IS colder than being in a teardrop, travel trailer or fifth wheel, especially if you don't have a heater. Many tent trailers do have propane heaters (and even A/C units), but ours doesn't. Instead, we use electric heaters and they work beautifully. It was 27 degrees in Las Vegas a couple of weeks ago when we were there and our little heater was able to get it to a toasty 67 degrees in our tent trailer.
Effort
My biggest problem with the tent trailer is the effort to set up and break camp. It's not as labor intensive or time consuming as a real tent, but it DOES take some time to level out and get the roof up. We can get set up or break camp in about 20-25 minutes, which is about half the time it took us to put up our Springbar and camp kitchen, but WAY more time than it took us to get the teardrop ready.
If you are unfamiliar with the tent trailer setup, here is video describing it:
Restrooms
Some tent trailers even have bathroom facilities, but they are rare and the privacy tends to consist of a thin curtain. Our tiny tent trailer doesn't have a bathroom, so we have to camp at campgrounds that have some or use our porta-potty tent. I talked about those options on these two posts:
Safety
Honestly, towing a tent trailer has been easier and safer for us than towing the teardrop. It is UNAFFECTED by strong winds and we can see over it out the rear window. It's so easy to tow that I can't feel it on the back of our car. Aside from a tent stuffed into the trunk of your car, the tent trailer is the safest option on this list.
Campsite Availability
A tent trailer is small and can fit in any campsite there is available, but paradoxically, we have had instances of trailer bigotry at some campgrounds. I admit that our first tent trailer, the Palomino, should have been called The Duct Tape Palace because it took so much duct tape to keep the tent fabric together, but we've also experienced a touch of elitism with our Jayco Eagle, even though it's in excellent shape.
We've had a campground host say that she couldn't put us in a certain spot because "everyone would see it there." We've NEVER had trouble getting SOME spot with water and electricity, but somehow, certain campgrounds don't want people to see that they have tent trailers for some reason and I never expected that sort of bigotry.
Weirdness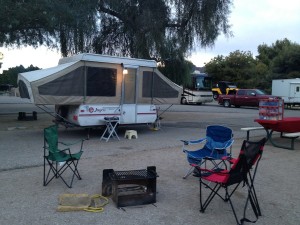 There is NOTHING weird about a tent trailer. Even when we drove up in the Duct Tape Palace, no one gave us even a second glance. If you want people to ooh and ah over you and your RV, a tent trailer is NOT the option for you. If you want to camp in obscurity, however, people won't even notice you and your tent camper.
You may, however, feel like a second class citizen in a tent trailer. That has only happened to me once, at a luxury RV resort. They saw our tiny tent trailer and were going to move us to the back of the campground, but we had made reservations to stay next to my sister, who had arrived a day earlier in her teardrop. They had put her teardrop in a premium site because it looks so cute and cool, but were reluctant to put us next to her in our tent trailer. In the end, we got the premium site, but they really made us feel like we weren't quite good enough for their fancy RV resort.
You can see other stories of tent trailers feeling like second class citizens here:
Then again, if we had tried to stay at that resort in a real tent, they wouldn't have let us stay at all. The bigotry we experienced being in a real tent was even worse, so having a tent trailer is definitely a step up for us.
The Walmart Factor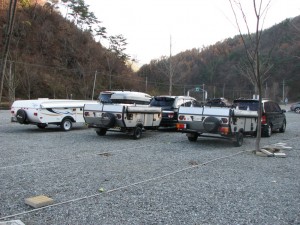 I've never tried to dry camp in a Walmart parking lot before, but I've heard through the grapevine that the managers generally say no to tent trailers. Considering that you can hear everything around you in a tent trailer, a parking lot might not be the ideal location to get some sleep.
The forum users at Popup Portal have varied ideas about popups at a Walmart. Some of them have done it, others say it's not safe and still others say you might as well find a campground. You can read their opinions here:
Our tent trailer doesn't have a bathroom, a battery or a propane heater, so a stay at Walmart wouldn't really be pleasant to us, but each person decides on their own comfort level in situations like these. It really seems to be up to each individual Walmart manager.
Conclusion
We have been happy with our tent trailer, so that's where we stopped choosing, but there is a whole other world of RVs out there.
Here are links to the other entries in this series: