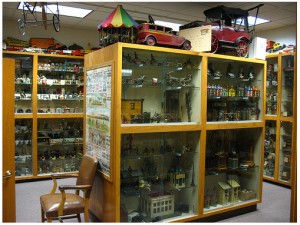 Hiding in the heart of the warehouse district of Portland is a museum of toys. Protected behind glass to keep them safe from little hands, lies the childhood of many. A true piece of history is in each toy telling us stories ranging from the late 1800's to the 1930's. Ward Jenkins visited the museum with his two children and was surprised at what he found.
They simply don't have the money or space to have the entire Kidd's toy collection available to the public. But what is available to view is quite impressive.

A fascinating place. And better yet, it's free!

Oh, and I have to say this: visiting the museum offered the opportunity for me to talk to Ava about racism. Hadn't planned on it, but hey, no time like the present.
You can see all of his photos from the visit here:
Where:
Kidd Toy Museum
Google Map
1301 SE Grand Ave
Portland, OR 97214
(503) 233-7807