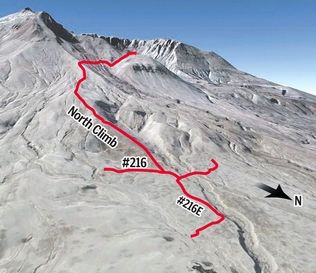 HeraldNet.com reports that the Forest Service is looking at adding trails and campgrounds to the Mount St. Helens National Monument.
The Forest Service is studying the possibility of adding one or two campgrounds and two trails at Mount St. Helens, including a new climbing route on the north side of the volcano. Plans call for starting the environmental review this summer on a trail that departs from Loowit trail No. 216 and climbs to the Sugar Bowl, a rim at about 6,800-feet elevation on the northeast side of Mount St. Helens. Although the trail would not go to the summit, "you'd be able to look right into the crater," said Gary Walker, lead climbing and trails ranger, for the monument. Climbing on Mount St. Helens has been done only from the south side since the summit reopened in 1982. The number of climbers is limited during summer. A northern route high on the mountain would need to become part of the permit system.

The second trail would begin near the Ape Cave on the south side of the peak and use a former logging road to climb about a mile to a viewpoint of Mount St. Helens. "There's no view of Mount St. Helens from the Ape Cave," Romano said. "This would give a fuller experience."

Locations are being analyzed for two proposed campgrounds near the Science and Learning Center at Coldwater, the new name for the former Coldwater Ridge Visitor Center. The Forest Service wants an overnight facility near the Science and Learning Center as a means for visitors to extend their stays and for research and education groups participating in multi-day programs. Romano said the terrain does not make locating campground sites easy. "There's not a whole lot of flat ground out there," she said. "We've identified a few places where a small campground might fit." The sites would be small, with no electricity, toilets without running water and no campfires. Both campgrounds would be within easy walking distance of the center. "We're still working on the feasibility study," Romano said. "We'll know more in a few months."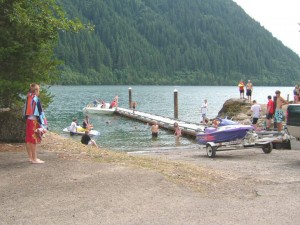 Right now, the closest camping to Mount St. Helens is the Beaver Bay Campground, 11 miles (25 minute drive) away. That site is hosted by Pacificorp and is not a state or federal campground, but it has water, showers and a swimming beach. It's not that far of a drive from Beaver Bay to Mount St. Helens, but I can understand why the Forest Service might want to keep visitors at their site instead of watching them leave the mountain every day.
Via: