This week's postcard was sent to Mrs. E. P. Bejot in Ainsworth, Nebraska on July 11, 1962.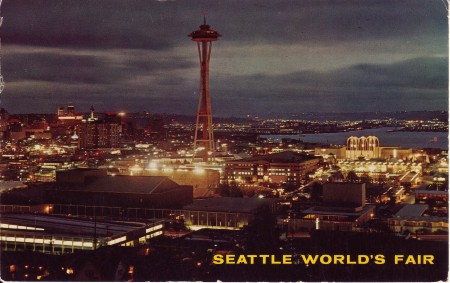 The postcard reads:
Seattle World's Fair from Queen Ann

Color photo by Mike Roberts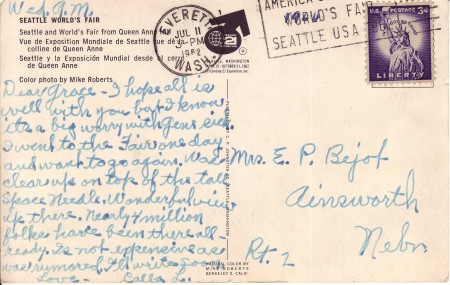 The letter to Mrs. Bejot reads:
Dear Grace,

I hope all is well with you but I know it's a big worry with Gene sick. I went to the fair one day and want to go again. Was clear up on top of the tall Space Needle. Wonderful views up there. Nearly 4 million folks have been there all ready. Is not expensive as was rumored. I'll write soon.

Love, Calla L.
The Space Needle has become Seattle's most recognizable landmark, but it was built for the 1962 World's Fair. You can find out more here:
The Century 21 Exposition (also known as the Seattle World's Fair) was a World's Fair held April 21, 1962, to October 21, 1962 in Seattle, Washington, USA.[1][2] Nearly ten million people attended the fair.[3] Unlike some other World's Fairs of its era, Century 21 ran a profit.[3]

As planned, the exposition left behind a fairground and numerous public buildings and public works; some credit it with revitalizing Seattle's economic and cultural life (see History of Seattle since 1940).[4] The fair saw the construction of the Space Needle and Alweg monorail, as well as several sports venues and performing arts buildings (most of which have since been replaced or heavily remodeled). The site, slightly expanded since the fair, is now called Seattle Center; the United States Science Pavilion is now the Pacific Science Center. Another notable Seattle Center building, the Experience Music Project, was deliberately designed to fit in with the fairground atmosphere, but was built nearly 40 years later.
You can still visit the Space Needle today and go "clear up on top."
From the top of the Needle, one can see not only the Downtown Seattle skyline, but also the Olympic and Cascade Mountains, Mount Rainier, Mount Baker, Elliott Bay and surrounding islands. Photographs of the Seattle skyline often show the Space Needle in a prominent position, even appearing to tower above the rest of the city's skyscrapers, as well as Mount Rainier in the background. This occurs because the tower, which is equivalent in height to a 60-story building, stands roughly four-fifths of a mile (1.3 km) northwest of most downtown skyscrapers.
Where: Space Needle‎
400 Broad St, Seattle, WA‎ Google Map
Phone: (206) 905-2100‎