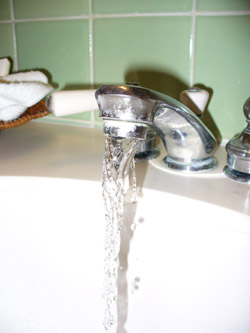 They say that the Menger Hotel is haunted. If it is, the ghost has inhabited the fixtures of the hotel itself. It's the hotel that wants to kill you. The step in your room that leads to the toilet tries to trip you in the middle of the night. The outlets in your room aren't grounded (except that one by the bed). The water that comes out of the faucet is so hot it could scald you. The ever oscillating shower head alternately freezes you and burns you.
Yet, I LOVED The Menger Hotel and would love to stay there again all because of three little words: Location, Location, Location.
The Menger Hotel sits right between The Alamo and the mall. Walk a little further and you're on the Riverwalk. If they could somehow transport the five missions that are scattered throughout the town near The Menger, I wouldn't have needed a rental car.
Add to all of this the history and beauty of such an old building, and you have the perfect hotel, despite any burns you may have incurred during your stay.
As far as the ghosts are concerned, I don't think there are any. We were there for a WWII Reunion with hundreds of people. At the Air Force Base, the announcer asked if anyone in the room had seen a ghost and not one of those hundreds of people raised their hands. Maybe they didn't count the entity in my room trying to kill me…
---
Where: The Menger Hotel
204 Alamo Plaza San Antonio, TX 78205 – Google Map
Tel: (210) 223-4361
Fax: (210) 228-0022
Email: almapuente@1859historichotels.com