Part of the reason that a trailer appeals to me is because I could decorate it. Just look at this adorable trailer. It makes me want one of my own: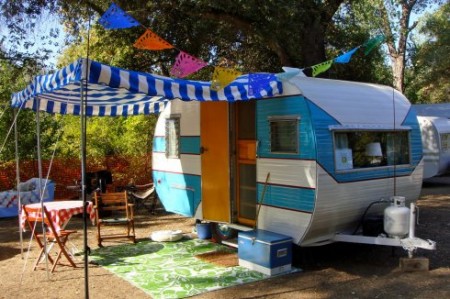 As cute as that trailer is, I just can't justify owning one. I've talked about this before:
So, I have decided to customize my tent in order to make it my own as much as the owner of that trailer did. Originally, I wanted to stencil on a map of the U.S. so I could color in each state as we camped in them, but that idea became too difficult. Instead, we decided to draw an image for each place we've camped.
To do this, we used Sharpie markers. We tested the Sharpie Fabric Markers, but their colors were so bright and they just didn't look as good as the regular Sharpie markers. We hope to have a tent covered in little reminders of all the places we've camped. As of now, it only has the Lake Mead picture because that's the only place we've put up the tent since we bought it last November, since our backyard doesn't count. Here is how it looked with the regular Sharpies.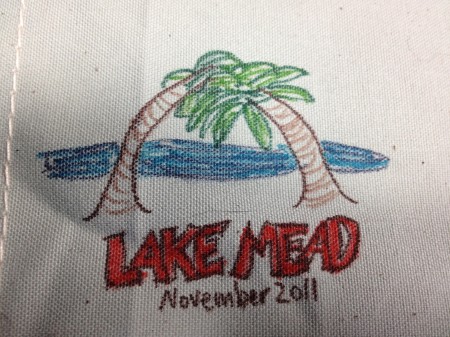 Luckily, we tested it with the Sharpie Fabric Markers on one of the bags. It didn't look as good because we didn't have as large of a color selection and the colors are a tad on the flourescent side.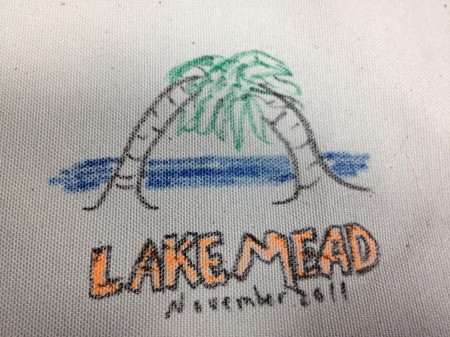 You should test the markers on an unobtrusive part of your tent, letting them dry and then checking for waterproofing. The Sharpies didn't affect our waterproofing on our canvas Springbar tent, but I have no idea how they would work on a nylon tent like our old Hobitat.
The next time I see an adorable trailer that has been personalized, I won't feel as left out. I can look at my own tent and relive all the great memories we had camping in it.
Trailer photo via: camper « ¡Ay Mujer!