This postcard from PostSecret made my blood boil with anger.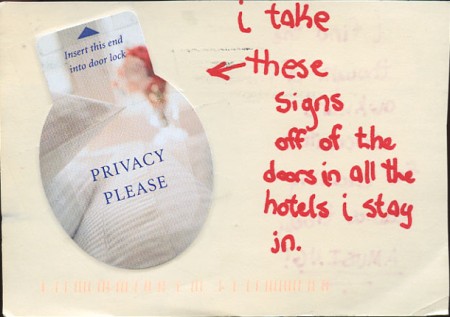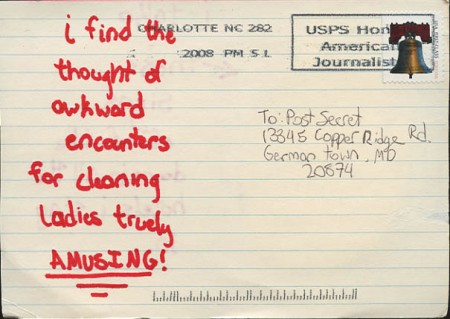 It reads:
I take these signs off of the doors in all the hotels I stay in.

I find the thought of awkward encounters for cleaning ladies truley amusing!
I wanted to slap that dork back into the seventh grade where he/she belongs.
Hey, give me some freakin' PRIVACY PLEASE! I put those signs on my door because I don't want the hotel staff in my room while I'm not there. I don't lock up my laptop, camera or journal because I trust that they won't come into the room.
When morons like you steal my sign, the hotel staff come into my room when I don't want them there!!!
While I've never had trouble with hotel staff stealing my stuff, I don't want to worry about the fact that I didn't pick up my underwear off the floor or that I DIDN'T TIP THEM!!!
Keep your sophomoric paws off my Privacy Please sign!
---
PostSecret's beneficiary is the National Hopeline Network. It is a 24-hour hotline (1 (800) SUICIDE) for anyone who is thinking about suicide or knows someone who is considering it.