This advertisement for Delta Royal Service Flights seems surreal to me.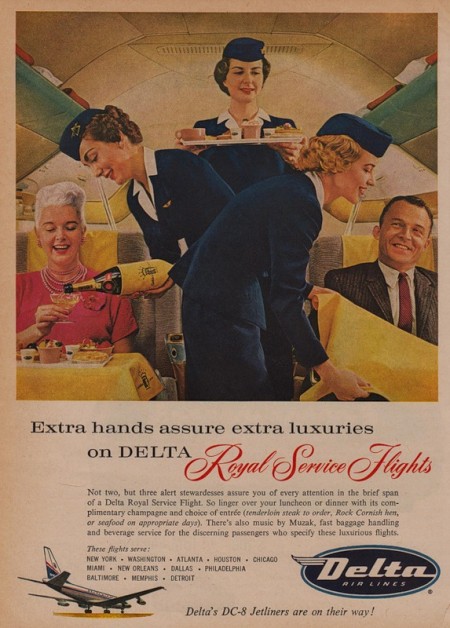 It reads:
Extra hands assure extra luxuries on Delta Royal Service Flights.

Not two, but three alert stewardesses assure you of every attention in the brief span of a Delta Royal Service Flight. So linger over your luncheon or dinner with its complimentary champagne and choice of entree (tenderloin steak to order, Rock Cornish hen or seafood on appropriate days). There's also music by Muzak, fast baggage handling, and beverage service for the discerning passengers who specify these luxurious flights.
I have to admit that every flight I've been on has had at least two and usually three flight attendants, but the idea of tenderloin steak served with champagne on an airplane is completely foreign to me. I've heard that air travel used to be something one dressed up for, but I'm not old enough to have ever seen it.
Personally, I like my flight the way it is. I don't want to be fed on an airplane unless they hold me hostage for eight hours on the tarmac. I don't even want an in-flight movie. What I'd really like is free Internet connectivity and three more inches of personal space. If I have to wear a pink Jackie O suit and pearls to get it, I'd be willing to do it.
Advert via: vintage_ads: Оригинал   (733×1024)